The combination of tomatoes and orange in this dish brings to mind Mediterranean sunshine.
SERVES: 6
PREP TIME: 15 min
COOK TIME: 1 hour 30 min
READY TIME: 1 hour 45 min
CUISINE: French
CALORIES: 199 (per serving)
⇓ You may also listen to the recipe by pressing the play button below.
INGREDIENTS
60 ml/4 tbsp plain flour
1.3 kg/3 lb boneless veal shoulder, cut into 4cm/1½ in pieces
30-45 ml/2-3 tbsp olive oil
4 or 5 shallots, finely chopped
2 garlic cloves, very finely chopped 300 ml/1/2 pint/1¼ cups dry white wine
450 g/1 lb tomatoes, peeled, seeded and chopped
Grated rind and juice of 1 unwaxed orange
Bouquet garni
15 ml/1 tbsp tomato puree
15 g/1/2 oz/1 tbsp butter
350 g/3/4 lb button mushrooms, quartered if large
Salt and freshly ground black pepper
Chopped fresh parsley, to garnish
INSTRUCTIONS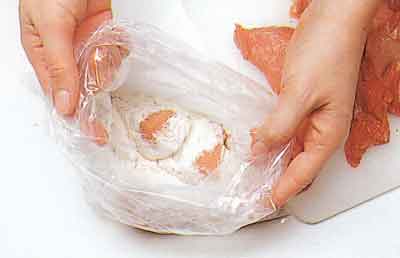 1 Put the flour in a polythene bag and season with salt and pepper. Drop the pieces of meat into the bag a few at a time and shake to coat with flour, tapping off the excess. Discard the remaining flour.
---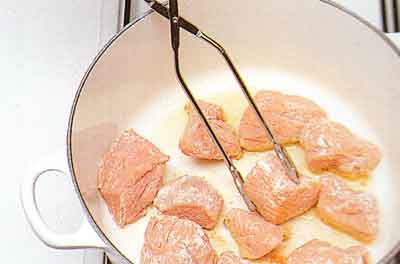 2 Heat 30 ml/2 tbsp of the oil in a flameproof casserole over a medium-high heat. Add enough meat to the pan to fit easily in one layer (do not overcrowd the pan or the meat will not brown). Cook, turning to colour all sides, until well browned, then transfer to a plate. Continue browning the meat in batches, adding more oil if needed.
---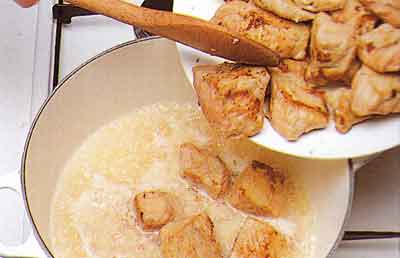 3 In the same pan, cook the shallots and garlic over a medium heat, stirring, until just softened, then stir in the wine and bring to the boil. Return the meat to the pan and add the tomatoes, orange rind and juice, bouquet garni and tomato puree. Bring back to the boil, then reduce the heat to low, cover and simmer gently for 1 hour.
---
4 Melt the butter in a frying pan over a medium heat and saute the mushrooms until golden. Add the mushrooms to the casserole and cook, covered, for 20-30 minutes, or until the meat is very tender. Adjust the seasoning arid discard the bouquet garni before serving. Garnish the stew with parsley.

NUTRITION FACTS
Calories: 199 Kcal
Fat: 5.82 g
Carbs: 21.97 g
Protein: 14.77 g
Cholesterol: 47.6 mg