This dish is an easy version of the modern classic invented by one of the masters of French cooking, the late Fernand Point of the Michelin-starred restaurant near Lyons, La Pyramide.
SERVES: 4
PREP TIME: 15 min
COOK TIME: 25 min
READY TIME: 40 min
CALORIES: 151 (per serving)
⇓ You may also listen to the recipe by pressing the play button below.
INGREDIENTS
4 skinless boneless chicken breasts (200 g/7 oz each)
55 g/2 oz/4 tbsp unsalted butter
Freshly ground black pepper
8—12 shallots, trimmed and halved
60 ml/4 tbsp red wine vinegar
2 garlic cloves, finely chopped
60 ml/4 tbsp dry white wine
125 ml/4 fl oz/1/2 cup chicken stock
15 ml/1 tbsp chopped fresh parsley
Green salad, to serve
INSTRUCTIONS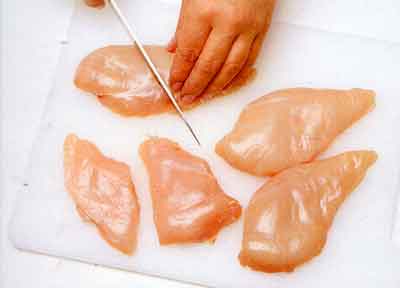 1 Cut each chicken breast in half crossways to make eight pieces.
---
2 Melt half the butter in a large heavy-based frying pan over a medium heat. Add the chicken and cook for 3-5 minutes until golden brown, turning once, then season with pepper.
---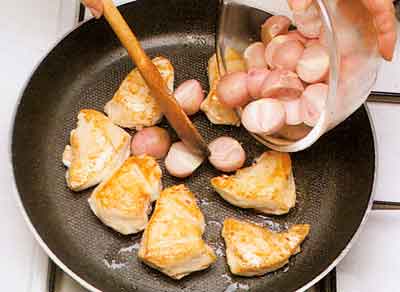 3 Add the shallot halves to the pan, cover and cook over a low heat for 5—7 minutes, shaking the pan and stirring the pieces occasionally.
---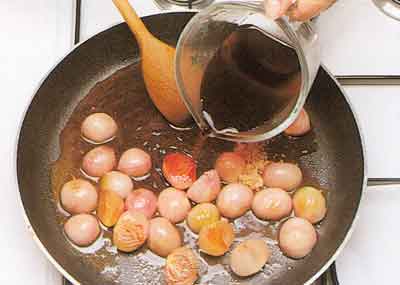 4 Transfer the chicken pieces to a plate. Add the vinegar and cook, stirring frequently, for about 1 minute until the liquid is almost evaporated. Add the garlic, wine and stock and stir to blend.
---
5 Return the chicken to the pan with any accumulated liquid. Cover and simmer for 2-3 minutes until the chicken is tender and the juices run clear when the meat is pierced with a knife.

6 Transfer the chicken and shallots to a serving dish and cover to keep warm. Increase the heat and boil the cooking liquid until it has reduced by half.

7 Remove the pan from the heat. Gradually add the remaining butter, whisking until the sauce is slightly thickened and glossy. Stir in the parsley and pour the sauce over the chicken pieces and shallots. Serve at once with a green salad.

NUTRITION FACTS
Calories: 151.7Kcal
Fat: 9.5 g
Cholesterol: 57.3 mg
Sodium: 60.3 mg
Potassium: 214.3 mg
Carbs: 3.4 g
Protein: 13.7 g
VARIATION
You could use different flavoured vinegars. Try tarragon vinegar and substitute fresh tarragon for the parsley, or use raspberry vinegar and garnish with a few fresh raspberries.