This classic dish was originally made with an old rooster, marinated then slowly braised until very tender. White wine may be used instead of red —as in Alsace, where the local riesling is used.
SERVES: 4
PREP TIME: 30 min
COOK TIME: 45 min
READY TIME: 1 hour 15 min
CUISINE: French
CALORIES: 378 (per serving)
⇓ You may also listen to the recipe by pressing the play button below.
INGREDIENTS
1.6-1.8 kg/3½—4 lb chicken, cut in pieces
25 ml/1½ tbsp olive oil
225 g/1½ lb baby onions
15 g/1½ oz/1 tbsp butter
225 g/1/2 lb mushrooms, quartered if large
30 ml/2 tbsp plain flour
750 ml / 1¼ pints/3 cups dry red wine
250 ml/8 fl oz/ 1 cup chicken stock, or more to cover
Bouquet garni
Salt and freshly ground black pepper
INSTRUCTIONS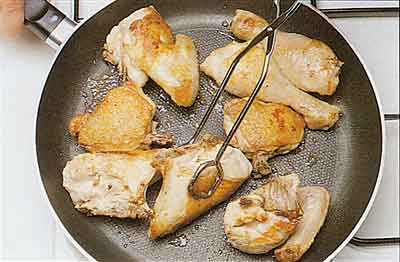 1 Pat the chicken pieces dry and season with salt and pepper. Put the chicken in a large heavy frying pan, skin side down, and cook over a medium-high heat for 10-12 minutes, or until golden brown. Transfer to a plate.
---
2 Meanwhile, heat the oil in a large flameproof casserole over a medium-low heat, add the onions and cook, covered, until evenly browned, stirring frequently.
---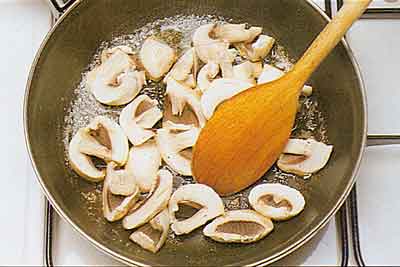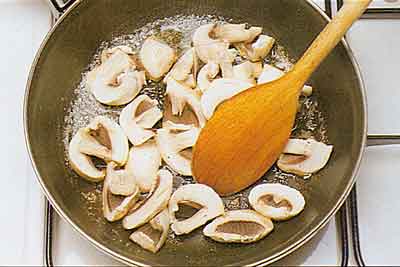 3 In a heavy frying pan, melt the butter over a medium heat and saute the mushrooms, stirring, until golden brown.
---
4 Sprinkle the onions with flour and cook for 2 minutes, stirring frequently, then add the wine and boil for 1 minute, stirring. Add the chicken, mushrooms, stock and bouquet garni. Bring to the boil, reduce the heat to very low and simmer, covered, for 45-50 minutes until the chicken is tender and the juices run clear when the thickest part of the meat is pierced with a knife. (Alternatively, bake in a preheated oven 170°C/325°F/Gas 3 for the same amount of time.)

---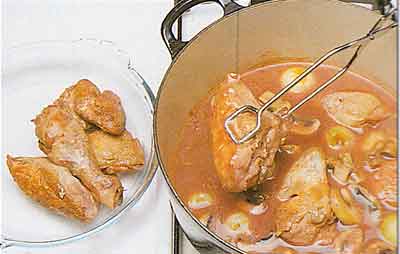 5 Transfer the chicken pieces and vegetables to a plate. Strain the cooking liquid, skim off the fat and return the liquid to the pan. Boil to reduce by one-third, then return the chicken and vegetables to the casserole and simmer for 3-4 minutes to heat through.
NUTRITION FACTS
Calories: 378 Kcal
Fat: 14.6 g
Protein: 38.6 g
Carbs 16.5 g
Fiber: 2.1 g
Cholesterol: 169 mg
Iron: 3.5 mg
Sodium: 513 mg
Calcium: 74 mg
COOK'S TIP
Avoid large flat mushrooms -although they have a lovely flavour, they will make the sauce murky.