These baby marrows have shiny green skin, a sweet delicate flavor and a crisp texture. They are at their best when they are small. Scroll down a bit if you are wondering about the nutrients in zucchinis or looking for some real delicious ways to cook them.
How to Eat Zucchinis (Courgette)
They can be sliced or grated and eaten raw, or they can be cooked, combining well with other Mediterranean vegetables. Zucchinis can also be battered and deep-fried, made into fritters or served with a white sauce flavored with Parmesan or nutmeg. Served cold with a mint-flavored vinaigrette or tomato sauce, they can be served as part of a first course. They can also be halved and stuffed with a meat or vegetable filling.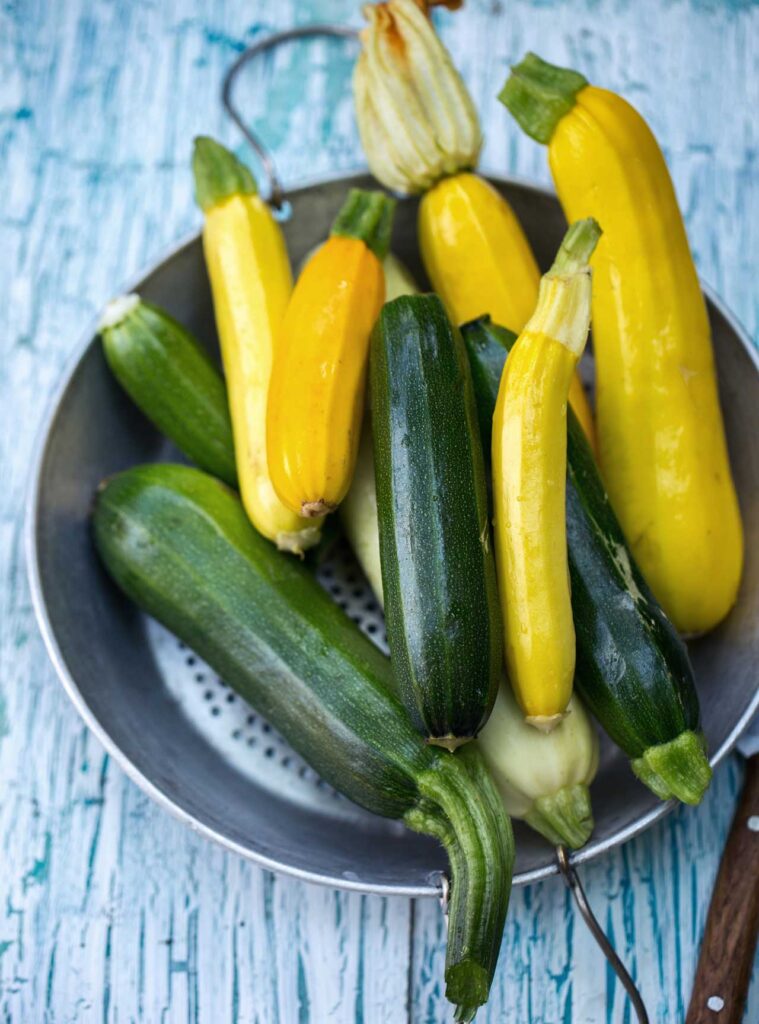 How to Choose Zucchinis
The larger zucchinis or courgettes become, the less flavor they have. When buying, choose firm and shiny ones. Do not buy flabby zucchinis, or those with blemished skins. Yellow varieties, sometimes called "banana zucchinis" are sometimes available and, although there is no difference in flavor, they make a pretty alternative to the usual green variety.
For the finest flavor and texture, choose young zucchinis that are firm, not flabby.
In Italy and France, the golden zucchini flowers are highly prized; they are frequently stuffed and cooked, or deep-fried in batter.
When to Buy Zucchinis
Zucchinis are available almost all year round, but are at their best in spring and summer.
How to Store Zucchinis
To store and save your zucchini for later, you can either refrigerate it or freeze it.
How to refrigerate zucchinis (courgettes)
To store zucchini (courgette) in the fridge, keep it whole, dry and unwashed. Cutting the zucchini will make it go bad much faster and washing them will cause an excess of moisture which will make it rot quickly. If your zucchini has some condensation or moisture on its skin, make sure to gently pat it dry before storing to prevent mold and decay. Store them in a plastic or paper bag with one end open to encourage air circulation, and put them in the vegetable drawer / crisper drawer of the fridge. They will keep in the vegetable drawer of the fridge for up to one week (5-7 days).
How to freeze zucchinis (courgettes)
If you want to know whether you can freeze zucchini (courgette) or not, the answer is yes. To freeze your zucchini to cook later, chop it up and blanch it first to keep its firmness.
Before blanching, chop the zucchini up into 1 inch (2.5 cm) pieces using a sharp knife. You can cut it into either chunks or coins. Cutting it into smaller pieces will help speed the blanching and freezing process and also make the zucchini easier to cook after it's been frozen.
Now comes the blanching step. Blanching will deactivate the enzymes that cause the zucchini to turn mushy and discolored. To blanch the vegetable, bring a pot of unsalted water to a boil. Normally, you would salt the boiling water when blanching vegetables. However, don't add salt when blanching before freezing because it accumulates on the vegetable's skin and causes mushiness. Place the zucchini pieces in the boiling water and boil for 1 minute. Fill a bowl with cold water and ice while you wait for that 1 minute to pass. When the time is up, immediately drain them using a colander.
Transfer the zucchini pieces into the bowl of ice water immediately. The sudden temperature change will shock the vegetable and help keep it firm. Keep them in the ice water until they have fully cooled.
Transfer the zucchini pieces onto a baking sheet lined with a cooling rack. Spread them out to form a single layer over the cooling rack to help with draining process. Pat the zucchini (courgette) dry, then place in the freezer overnight or until frozen solid. This will let the zucchini pieces all freeze separately, rather than in one big chunk.
Once the zucchini has frozen overnight, take the pieces off of the baking sheets and put them into freezer bags or freezer-friendly containers. Let out any extra air in the freezer bags/containers, then seal them completely.
Label and date your bags/containers to keep track of the storage duration and store zucchini in your freezer for up to 3 months. Although the zucchini (courgette) will technically still be edible after 3 months, the taste and texture may be affected by freezer burn.
How to Cook Using Frozen Zucchini (Courgette)
You can use frozen zucchini pieces in soups, stir-fries, and sauteed dishes. To cook, simply add the frozen zucchini pieces and cook until soft. Freezing causes zucchini to lose its texture, so it won't work as well in grilled dishes. However, it should still work well in baked or stewed dishes, such as zucchini bread or vegetable soup.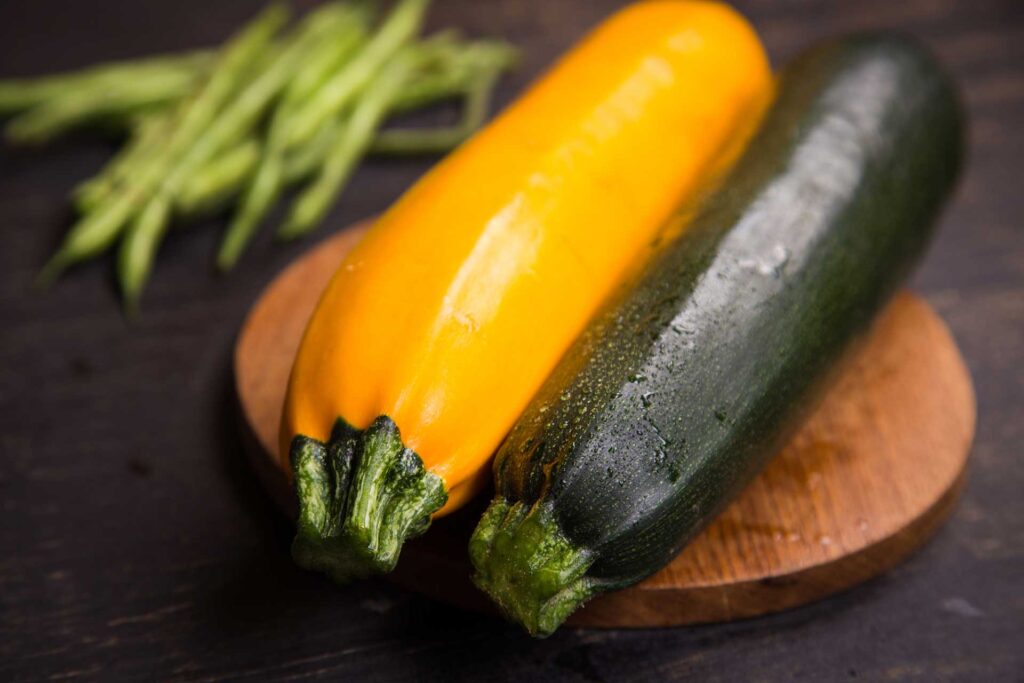 Defrost frozen zucchini before adding it to bread and fritters. To defrost, place the frozen pieces in a colander and let it sit in the sink until they've thawed out.
If you're in a hurry, you could also place the freezer bag full of frozen zucchini in a bowl of warm water for 10 minutes, or until the zucchini feels soft.
How Do You Know If The Zucchini (Courgette) Has Gone Bad?
If the zucchini feels soft to the touch and has black spots on its skin, this means it has started to go bad. But don't fret, your zucchini is still edible at this point. Cut out any black spots and use it quickly. However, if the zucchini feels mushy and starts to leak a thick liquid, then it has gone bad. Throw it away and clean up any residue of the liquid.
How to Cook Zucchinis
Here are some mouthwatering zucchini (courgette) recipes you can prepare for a delicious meal.
How to Choose, How to Store, How to Cook Zucchini (Courgette)
These baby marrows have shiny green skin, a sweet delicate flavor and a crisp texture. They are at their best when they are small. Scroll down a bit if you are wondering about the nutrients in zucchinis or looking for some real delicious ways to cook them.