This may sound like an unusual combination, but the anchovy adds flavour without tasting fishy.
SERVES: 2
PREP TIME: 10 min
COOK TIME: 30 min
READY TIME: 40 min
CALORIES: 160 (per serving)
⇓ You may also listen to the recipe by pressing the play button below.
INGREDIENTS
40 g/1 1/2 oz/3 tbsp butter
4 shallots, finely chopped
1 garlic clove, crushed
100 ml/31/2 fl oz/6 tbsp whipping cream
25 ml/11/2 tbsp anchovy paste
15 ml/1 tbsp chopped fresh tarragon
2 sirloin or fillet steaks, about 200-250 g/7-9 oz each
10 ml/2 tsp vegetable oil
Salt and freshly ground black pepper
Parsley or tarragon sprigs, to garnish
Sauteed potatoes, to serve
INSTRUCTIONS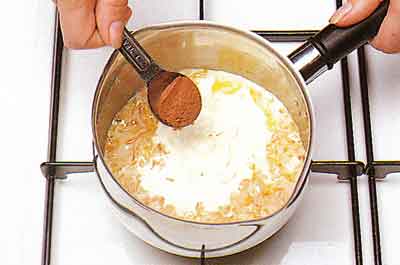 1 Melt 30 g/1 oz/2 tbsp of the butter in a small saucepan and fry the shallots and garlic until they are just soft. Stir in the cream, anchovy paste and tarragon, and simmer very gently for about 10 minutes.
---
2 Season the steaks. Heat the remaining butter with the oil in a heavy frying pan over a medium-high heat until it begins to brown.
---
3 Add the meat and cook for about 6-8 minutes, turning once, until done as preferred (medium-rare meat will still be slightly soft when pressed, medium meat will be springy and well-done firm.) Transfer the steaks to warmed serving plates and cover to keep warm.

---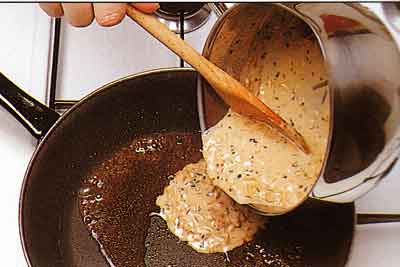 4 Add 30 ml/2 tbsp of water to the frying pan. Stir in the anchovy sauce and cook for 1-2 minutes, stirring and scraping the bottom of the pan. Adjust the seasoning and pour the sauce over the meat, then garnish with parsley or tarragon and serve with potatoes.
NUTRITION FACTS
Calories: 160 Kcal
Carbs: 2 g
Fat: 9 g
Protein: 17 g
VARIATION
To make a tomato cream sauce to serve with the steak, substitute 5-10 ml/1-2 tsp tomato puree for the anchovy paste.