Even in France, fresh foie gras, the liver of specially raised and fattened geese or ducks, is not too easy to come by. If you can find it, this quick recipe brings out its rich flavour.
SERVES: 4
PREP TIME: 45 min
COOK TIME: 45 min
READY TIME: 1 hour 15 min
CALORIES: 250 (per serving
⇓ You may also listen to the recipe by pressing the play button below.
INGREDIENTS
275 g/10 oz small baking potatoes, peeled
15 g/1/2 oz/1 tbsp butter
450 g/1 lb fresh /foie gras, cut into 8 X 2 cm/3/4 in slices
45-60 ml/3—4 tbsp sherry vinegar or white wine vinegar
Salt and freshly ground black pepper
Fresh chives, to garnish
INSTRUCTIONS
---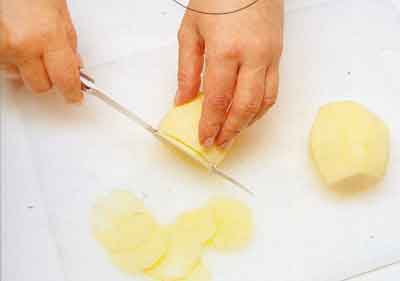 1 Cut the potatoes into 1.5 mm/ 1/16 in slices and cover with cold water if not using immediately.
---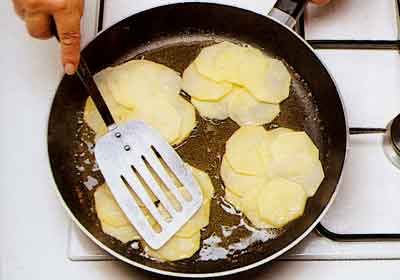 2 Pat the potatoes dry. Melt the butter in a large frying pan over a medium heat. Make four 13 cm/5 in rounds of overlapping potato slices in the pan and press them down. Season with salt and pepper and cook for 6-8 minutes until the bases are well browned. Turn and brown the other side, for 5 minutes. Transfer to a baking sheet and keep warm in a low oven.
---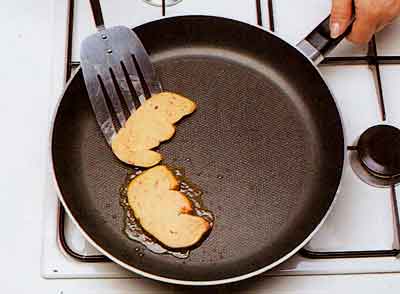 3 Season the foie gras with salt and pepper. Heat a large non-stick frying pan over a high heat and cook the slices, in one layer or in batches, for 3 minutes for 2 cm/3/4 in slices, less for thinner slices, turning once.
---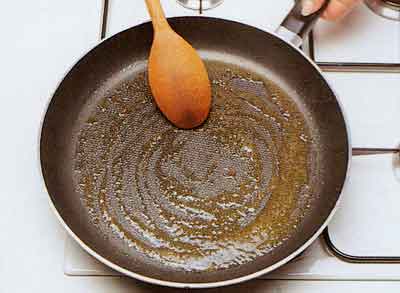 4 Place the potato cakes on warmed plates and top with slices of foie gras. Pour the vinegar into the frying pan and boil briefly, scraping the base of the pan, then pour the sauce over the foie gras, dividing it evenly. Garnish with chives.
---
NUTRITION FACTS
Calories: 250 Kcal
Fat: 24 g
Cholesterol: 210 mg
Sodium: 410 mg
Carbs: 2 g
Sugars: 1 g
Protein: 6 g