Wild duck should be served slightly underdone or the meat will be very tough. There is little meat on the leg, so one duck will serve only two people —keep the legs for making a tasty stock.
SERVES: 2
PREP TIME: 10 min
COOK TIME: 50 min
READY TIME: 1 hour
CALORIES: 360 (per serving)
⇓ You may also listen to the recipe by pressing the play button below.
INGREDIENTS
15 ml/1 tbsp juniper berries, fresh if possible
1 oven-ready wild duck (preferably a mallard)
30 g/1 oz/2 tbsp butter, softened
45 ml/3 tbsp gin
125 ml/4 fl oz/1/2 cup duck or chicken stock
125 ml/4 fl oz/1/2 cup whipping cream
Salt and freshly ground black pepper
Watercress, to garnish
INSTRUCTIONS
1 Preheat the oven to 230°C/450°F/ Gas 8. Reserve a few juniper berries for garnishing and put the remainder in a heavy polythene bag. Crush coarsely with a rolling pin.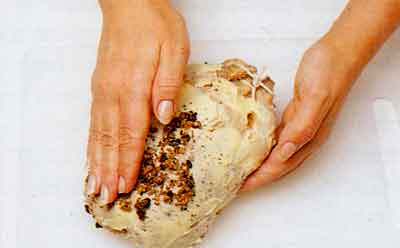 2 Wipe the duck with damp kitchen paper and remove any excess fat or skin. Tie the legs with string, then spread the butter over the duck. Sprinkle with salt and pepper and press the crushed juniper berries on to the skin.
---
3 Place the duck in a roasting tin and roast for 20-25 minutes, basting occasionally; the juices should run slightly pink when the thigh is pierced with a knife. Pour the juices from the cavity into the roasting tin and transfer the duck to a carving board. Cover loosely with foil and leave to stand for 10-15 minutes.

---
4 Skim off as much fat as possible from the roasting tin, leaving as much of the juniper as possible, and place the tin over a medium-high heat. Add the gin and stir, scraping the base of the tin and bring to the boil. Cook until the liquid has almost evaporated, then add the stock and boil to reduce by half. Add the cream and boil for 2 minutes more, or until the sauce thickens slightly. Strain into a small saucepan and keep warm.
---
5 Carve the legs from the duck and separate the thigh from the drumstick. Remove the breasts and arrange the duck in a warmed serving dish. Pour a little sauce over, sprinkle with the reserved juniper berries and garnish with watercress.

NUTRITION FACTS
Calories: 360 kcal
Fat: 15.2 g
Carbs: 15.1 g
Sugars: 14.7 g
Protein: 40.8 g
Salt: 1.2 g
Fibre: 2.5 g
COOK'S TIP
If you do not serve the legs, use the legs and duck carcass to make a duck stock for other game dishes.
Try pitted cherries and port instead of blackberries and red wine.