In France, the evocative sight and smell of chickens roasting on their spits can often be found in charcuteries. A well-flavoured chicken is essential — use a free-range or corn-fed bird, if possible.
SERVES: 4
PREP TIME: 15 min
COOK TIME: 60 min
READY TIME: 1 hour 15 min
CALORIES: 194 (per serving)
CUISINE: French
⇓ You may also listen to the recipe by pressing the play button below.
INGREDIENTS
1.3 kg/3 lb chicken
1 unwaxed lemon, halved
Small bunch thyme sprigs
1 bay leaf
15 g/1/2 oz/l tbsp butter, softened
60-90 ml/4-6 tbsp chicken stock or water
Salt and freshly ground black pepper
INSTRUCTIONS
1 Preheat the oven to 200°C/400°F/ Gas 6. Season the chicken inside and out with salt and pepper.
---
2 A Squeeze the juice of one lemon half and then place the juice', the squeezed lemon half, the thyme and bay leaf in the chicken cavity. Tie the legs with string and rub the breast with butter.
---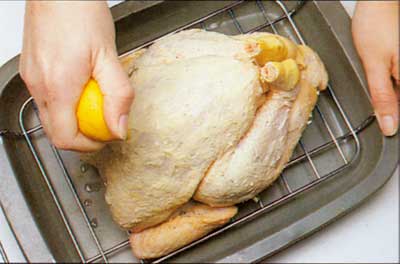 3 A Place the chicken on a rack in a roasting tin. Squeeze over the juice of the other lemon half. Roast the chicken for 1 hour, basting two or three times, until the juices run clear when the thickest part of the thigh is pierced with a knife.
---
4 A Pour the juices from the cavity into the roasting tin and transfer the chicken to a carving board. Cover loosely with foil and leave to stand for 10-15 minutes before carving.
---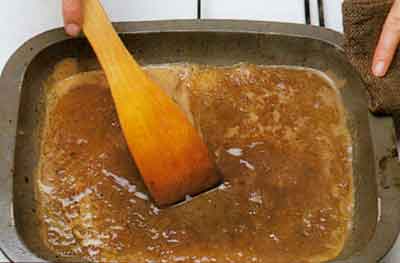 5 A Skim off the fat from the cooking juices. Add the stock or water and boil over a medium heat, stirring and scraping the base of the pan, until slightly reduced. Strain and serve with the chicken.
NUTRITION FACTS
Calories: 194.6 Kcal
Fat: 6.6 g
Cholesterol: 66.3 mg
Sodium: 467.3 mg
Potassium: 419.0 mg
Carbs: 3.0 g
Protein: 29.2 g
COOK'S TIP
Be sure to save the carcasses of roast poultry for stock. Freeze them until you have several, then simmer with aromatic vegetables, herbs and water.