Veal chops from the loin are an expensive cut and are best cooked quickly and simply. The flavour of basil goes well with veal, but other herbs can be used instead if you prefer.
SERVES: 2
PREP TIME: 10 min
COOK TIME: 25 min
READY TIME: 35 min
CALORIES: 165 (per serving)
⇓ You may also listen to the recipe by pressing the play button below.
INGREDIENTS
30 g/1 oz/2 tbsp butter, softened
15 ml/1 tbsp Dijon mustard
15 ml/1 tbsp chopped fresh basil
Olive oil, for brushing
2 veal loin chops, 2.5 cm/1 in thick (about 225 g/8 oz each)
Salt and freshly ground black pepper
Basil sprigs, to garnish
INSTRUCTIONS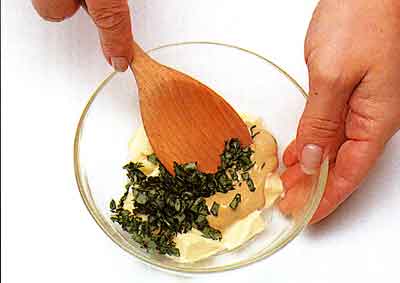 1 To make the basil butter, cream the butter with the mustard and chopped basil in a small bowl, then season with pepper.
---
2 Lightly oil a heavy frying pan or griddle. Set over a high heat until very hot but not smoking. Brush both sides of each chop with a little oil and season with a little salt.
---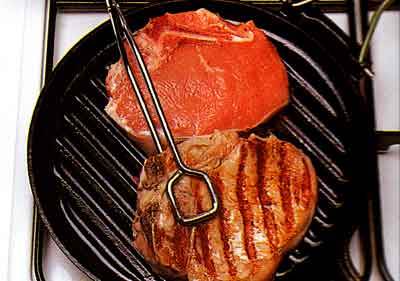 3 Place the chops on the pan or griddle and reduce the heat to medium. Cook for 4-5 minutes, then turn and cook for a further 3-4 minutes until done as preferred (medium-rare meat will still be slightly soft when pressed, medium meat will be springy and well-done firm). Top each chop with half the basil butter and serve at once.
---
NUTRITION FACTS
Calories: 161.0 Kcal
Fat: 7.9 g
Cholesterol: 78.9 mg
Sodium: 429.7 mg
Potassium: 217.7 mg
Carbs: 2.2 g
Protein: 18.7 g
COOK'S TIP
If you prefer, replace the basil in the herb butter with fresh thyme or marjoram, or use a mixture of both. Or, omit the herb butter and top the veal chops with Tapenade.