A colorful, layered terrine, using all the vegetables associated with the Mediterranean.
SERVES: 6
PREP TIME: 20 min
READY TIME: 45 min
CALORIES: 379 per serving
CUISINE: Mediterranean
⇓ You may also listen to the recipe by pressing the play button below.
INGREDIENTS
2 large red peppers, quartered, cored and seeded
2 large yellow peppers, quartered, cored and seeded
1 large eggplant, sliced lengthways
2 large zucchinis, sliced lengthways
6 tbsp (90 ml) olive oil
1 large red onion, thinly sliced
½ cup (3 oz/75 g) raisins
1 tbsp (15 ml) tomato puree
1 tbsp (15 ml) red wine vinegar
1⅓ cups (14 fl oz/400 ml) tomato juice
2 tbsp (½ oz/15 g) powdered gelatin
Fresh basil leaves to garnish
For the dressing:
6 tbsp (90 ml) extra virgin olive oil
2 tbsp (30 ml) red wine vinegar
Salt and ground black pepper
INSTRUCTIONS
1 Place the prepared red and yellow peppers skin side up under a hot grill and cook until the skins are blackened. Transfer to a bowl and cover with a plate. Leave to cool.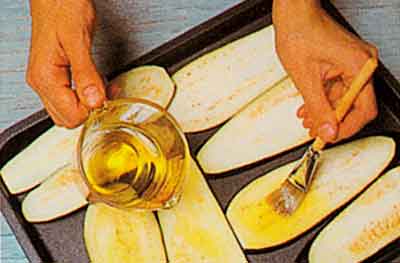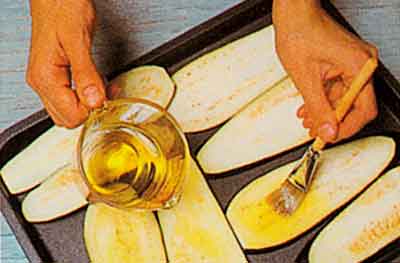 2 Arrange the eggplant and zucchini slices on separate baking sheets. Brush them with a little oil and cook under the grill, turning occasionally, until tender and golden.
---
3 Heat the remaining olive oil in a frying pan, and add the sliced onion, raisins, tomato purée and red wine vinegar. Cook gently until soft and syrupy. Leave to cool in the frying pan.
---
4 Line a 7½ cup (3 pint/1.75 liter) terrine with clear film (it helps to lightly oil the terrine first), leaving a little hanging over the sides.

5 Pour half the tomato juice into a saucepan, and sprinkle with the gelatin. Dissolve gently over a low heat, stirring.

6 Place a layer of red peppers in the bottom of the terrine, and pour in enough of the tomato juice with gelatin to cover. Continue layering the eggplant, zucchini, yellow peppers and onion mixture, finishing with another layer of red peppers. Pour tomato juice over each layer of vegetables.

7 Add the remaining tomato juice to any left in the pan, and pour into the terrine. Give it a sharp tap, to disperse the juice. Cover the terrine and chill until set.
---
8 To make the dressing, whisk together the oil and vinegar, and season. Turn out the terrine and remove the clear film. Serve in thick slices, drizzled with dressing. Garnish with basil leaves.