In the time of Escoffier, this haute cuisine dish was made with truffle slices but large mushroom caps are more readily available and look attractive, especially when they are fluted.
SERVES: 4
PREP TIME: 15 min
COOK TIME: 30 min
READY TIME: 45 min
CALORIES: 349 (per serving)
⇓ You may also listen to the recipe by pressing the play button below.
INGREDIENTS
4 thin slices white bread
120 g/4 oz pate de foie gras or mousse de foie gras
70 g/2½ oz/5 tbsp butter
4 large mushroom caps
10 ml/2 tsp vegetable oil
4 fillet steaks (about 2.5 cm/1 in thick)
45—60 ml/3—4 tbsp Madeira or port
125 ml/4 fl oz/1/2 cup beef stock
Watercress, to garnish
INSTRUCTIONS
1 Cut the bread into rounds about the same diameter as the steaks, using a large round cutter or by cutting into squares, then cutting off the corners. Toast the bread and spread with the foie gras, dividing it ' evenly. Place the croutons on warmed plates.
---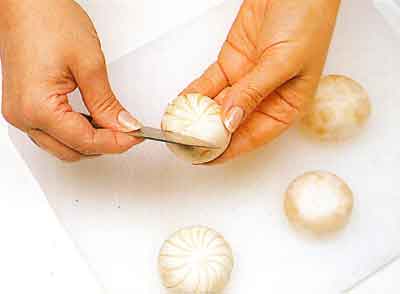 2 Flute the mushroom caps using the edge of a knife blade, if you wish, for a decorative effect. Melt about 30 g/1 oz/2 tbsp of the butter over a medium heat and saute the mushrooms until golden. Transfer to a plate and keep warm.
---
3 In the same pan, melt another 30 g/1 oz/2 tbsp of the butter with the oil over a medium-high heat, swirling to combine. When the butter begins to brown, add the steaks and cook for 6—8 minutes, turning once, until done as preferred (medium-rare meat will still be slightly soft when pressed, medium will be springy and well-done firm). Place the steaks on the croutons and top with the mushroom caps.
---
4 Add the Madeira or port to the pan and boil for 20—30 seconds. Add the stock and boil over a high heat until reduced by three-quarters, then swirl in the remaining butter. Pour a little sauce over each steak, then garnish with watercress.

NUTRITION FACTS
Calories: 349.3 Kcal
Fat: 12.5 g
Cholesterol: 108.5 mg
Sodium: 723.6 mg
Potassium: 817.4 mg
Carbs: 5.1 g
Protein: 38.4 g
COOK'S TIP
If pate de foie gras is difficult to find, you could substitute pork liver pate.