Use fresh new season's garlic if you can find it-there's no need to peel the cloves if the skin is not papery. In France, sometimes the cooked garlic cloves are spread on toasted country bread.
SERVES: 8
PREP TIME: 5 min
COOK TIME: 35 min
READY TIME: 40 min
CALORIES: 215 (per serving)
⇓ You may also listen to the recipe by pressing the play button below.
INGREDIENTS
2 kg/4½ lb chicken pieces
1 large onion, halved and sliced
3 large garlic bulbs (about 200 g/7 oz), separated into cloves and peeled
150 ml/¼ pint/2⁄3 cup dry white wine
175 ml/6 fl oz/¾ cup chicken stock
4-5 thyme sprigs, or 2.5 ml/½ tsp dried thyme
1 small rosemary sprig, or a pinch of ground rosemary
1 bay leaf
Salt and freshly ground black pepper
INSTRUCTIONS
1 Preheat the oven to 190°C/375°F/ Gas 5. Pat the chicken pieces dry and season with salt and pepper.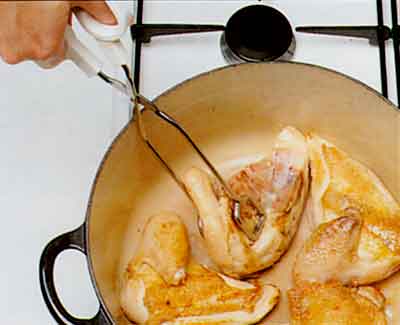 2 Put the chicken, skin side down in a large flameproof casserole and set over a medium-high heat. Turn frequently and transfer the chicken to a plate when browned. Cook in batches if necessary and pour off the fat after browning.
---
3 Add the onion and garlic to the casserole and cook over a medium-low heat, covered, until lightly browned, stirring frequently.
---
4 Add the wine to the casserole, bring to the boil and return the chicken to the casserole. Add the stock and herbs and bring back to the boil. Cover and transfer to the oven. Cook for 25 minutes, or until the chicken is tender and the juices run clear when the thickest part of the thigh is pierced with a knife.

---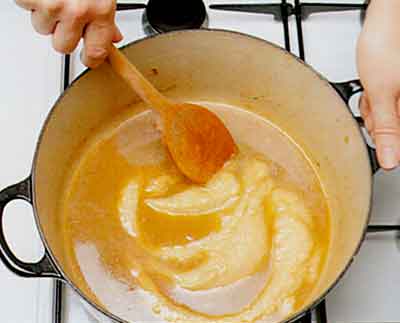 5 Remove the chicken pieces from the pan and strain the cooking liquid. Discard the herbs, transfer the solids to a food processor and puree until smooth. Remove any fat from the cooking liquid and return to the casserole. Stir in the garlic and onion puree, return the chicken to the casserole and reheat gently for 3-4 minutes before serving.
---
NUTRITION FACTS
Fat: 12.7 g
Cholesterol: 55.7 mg
Sodium: 55.8 mg
Potassium: 214.9 mg
Carbs: 2.0 g
Protein: 18.5 g