Chicken breasts or turkey, veal or pork escalopes may be flattened for quick and even cooking. You can buy them ready-prepared in France, but they are easy to do at home.
SERVES: 4
PREP TIME: 15 min
COOK TIME: 25 min
READY TIME: 40 min
CALORIES: 261 (per serving)
⇓ You may also listen to the recipe by pressing the play button below.
INGREDIENTS
6 ripe plum tomatoes
4 skinless boneless chicken breasts (about 150—175 g/5—6 oz each)
1.5 ml/1/4 tsp cayenne pepper
75- 105 ml/5—7 tbsp extra virgin olive oil
1 garlic clove, finely chopped
16-24 stoned black olives
Small handful fresh basil leaves
Salt
INSTRUCTIONS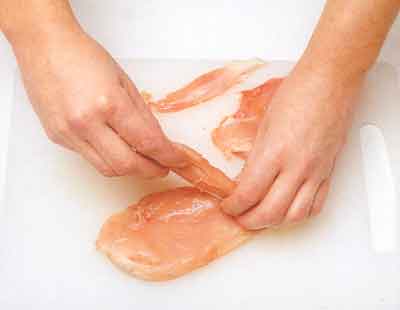 1 Carefully remove the fillets (the long finger-shaped muscle on the back of each breast) and reserve for another use.
---
2 Place each chicken breast between two sheets of greaseproof paper or clear film and pound with the flat side of a meat hammer or roll out with a rolling pin to flatten to about 1.2 cm/1/2 in thick. Season with salt and the cayenne pepper.
3 Heat 45-60 ml/3-4 tbsp of olive oil in a large heavy frying pan over a medium-high heat. Add the chicken and cook for 4-5 minutes until golden brown and just cooked, turning them once. Transfer the chicken to warmed serving plates and keep warm while you cook the tomatoes and olives.

---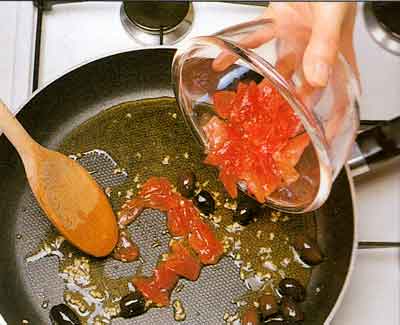 4 Wipe out the frying pan and return to the heat. Add another 30-45 ml/2-3 tbsp of olive oil and fry the garlic for 1 minute until golden and fragrant. Stir in the olives, cook for a further 1 minute, then stir in the tomatoes. Shred the basil leaves and stir into the olive and tomato mixture, then spoon it over the chicken and serve at once.
NUTRITION FACTS
Calories: 261.9
Fat: 13.1 g
Cholesterol: 64.9 mg
Sodium: 685.0 mg
Potassium: 186.7 mg
Carbs: 10.7 g
Protein: 24.3 g
COOCK'S TIP
If the tomato skins are at all tough, remove them by scoring the base of each tomato with a knife, then plunging them into boiling water for 45 seconds. The skin should simply peel off.