This mousse makes an elegant yet easy first course. The onion marmalade makes a delicious accompaniment, along with a salad of chicory or other bitter leaves.
SERVES: 6-8
PREP TIME: 15 min
COOK TIME: 45 min
READY TIME: 1 hour
CALORIES: 168 (per serving)
⇓ You may also listen to the recipe by pressing the play button below.
INGREDIENTS
450 g/1 lb chicken livers
175 g/6 oz/3/4 cup butter, diced
1 small onion, finely chopped
1 garlic clove, finely chopped
2.5 ml/1/2 tsp dried thyme
30-45 ml/2-3 tbsp brandy
Salt and freshly ground black pepper Green salad, to serve
For the Onion Marmalade:
30 g/1 oz/2 tbsp butter
450 g/1 lb red onions, thinly sliced
1 garlic clove, finely chopped
2.5 ml/1/2 tsp dried thyme
30-45 ml/2-3 tbsp raspberry or red wine vinegar
15-30 ml/1-2 tbsp clear honey
40 g/1½ oz/1/4 cup sultanas
INSTRUCTIONS
1 Trim the chicken livers, cutting off any green spots and removing any filaments or fat.
---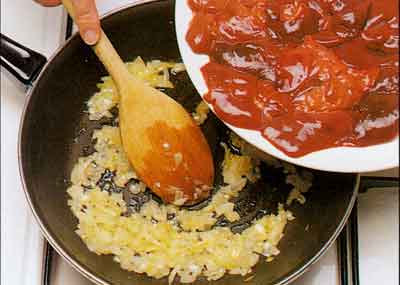 2 In a heavy frying pan, melt 30 g/1 oz/2 tbsp of the butter over a medium heat. Add the onion and cook for 5—7 minutes until soft and golden, then add the garlic and cook for 1 minute more. Increase the heat to medium-high and add the chicken livers, thyme, salt and pepper. Cook for 3-5 minutes until the livers are coloured, stirring frequently; the livers should remain pink inside, but not raw. Add the brandy and cook for a further minute.
---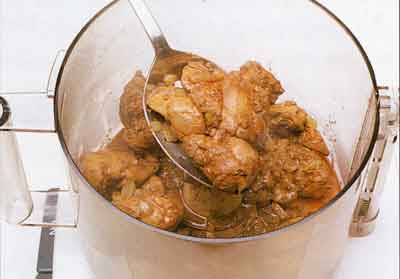 3 Using a slotted spoon, transfer the livers to a food processor fitted with the metal blade. Pour in the cooking juices and process for 1 minute, or until smooth, scraping down the sides once. With the machine running, add the remaining butter, a few pieces at a time, until it is incorporated.
---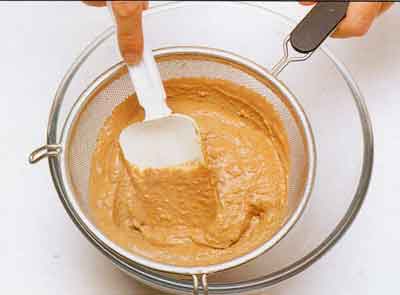 4 Press the mousse mixture through a fine sieve with a wooden spoon or rubber spatula.
---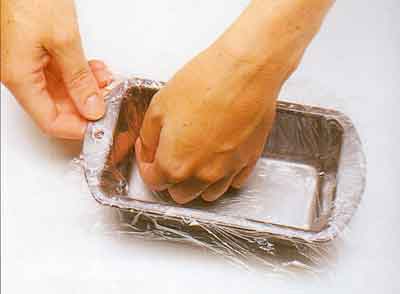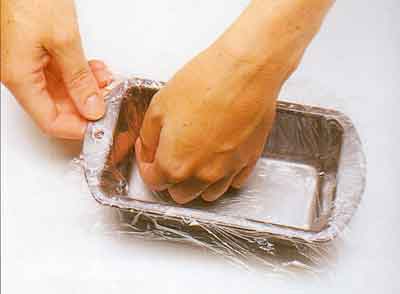 5 Line a 500 ml/16 fl oz/2 cup loaf tin with clear film, smoothing out as many wrinkles as possible. Pour the mousse mixture into the lined tin. Cool, then cover and chill until firm.
---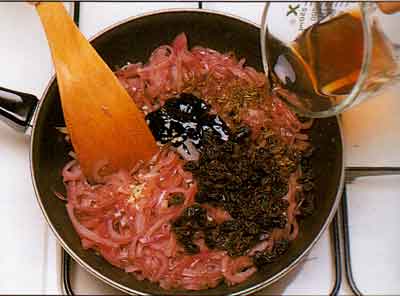 6 To make the onion marmalade, heat the butter in a heavy frying pan over a medium-low heat, add the onions and cook for 20 minutes until softened and just coloured, stirring frequently. Stir in the garlic, thyme, vinegar, honey and sultanas and cook, covered, for 10-15 minutes until the onions are completely soft and jam-like, stirring occasionally. Spoon into a bowl and cool to room temperature.
---
7 To serve, dip the loaf tin into hot water for 5 seconds, wipe dry and invert on to a board. Lift off the tin, peel off the clear film and smooth the surface with a knife. Serve sliced with a little of the onion marmalade and a green salad.
NUTRITION FACTS
Calories: 168.4 Kcal
Fat: 2.1 g
Cholesterol: 5.8 mg
Sodium: 13.0 mg
Potassium: 318.9 mg
Carbs: 18.4 g
Protein: 3.1 g
COOK'S TIP
The mousse will keep for 3-4 days. If made ahead, cover and chill until ready to use. The onion marmalade can be made up to 2 days ahead and gently reheated over a low heat or in the microwave until just warm.