Chateaubriand is a lean and tender cut from the thick center of the fillet that is pounded to give it its characteristic shape. It is usually served for two, but could easily stretch to three.
SERVES: 2
PREP TIME: 20 min
COOK TIME: 1 hour
READY TIME: 1 hour 20 min
CALORIES: 490 (per serving)
⇓ You may also listen to the recipe by pressing the play button below.
INGREDIENTS
150 g/5 oz/2/3 cup butter, cut into pieces
25 ml/1½ tbsp tarragon vinegar
25 ml/1½ tbsp dry white wine
1 shallot, finely chopped
2 egg yolks
450 g/1 lb beef fillet, about 12.5-15 cm/ 5—6 in long, cut from the thickest part of the fillet
15 ml/1 tbsp vegetable oil
Salt and freshly ground black pepper
Sauteed potatoes, to serve
INSTRUCTIONS
1 Clarify the butter by melting in a saucepan over a low heat; do not boil. Skim off foam and set aside.
2 Put the vinegar, wine and shallot in a small heavy saucepan over a high heat and boil to reduce until the liquid has almost all evaporated. Remove from the heat and cool slightly. Add the egg yolks and whisk for 1 minute. Place the saucepan over a very low heat and whisk constantly until the yolk mixture begins to thicken and the whisk begins to leave tracks on the base of the pan, then remove the pan from the heat.
---
3 Whisk in the melted butter, drop by drop until the sauce begins to thicken, then pour in the butter a little more quickly, leaving behind the milky solids at the bottom of the pan. Season with salt and pepper and keep warm, stirring occasionally.
---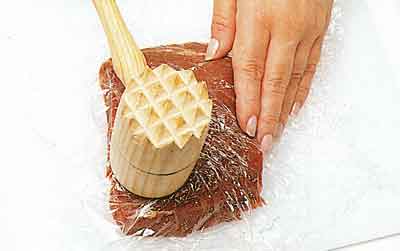 4 Place the meat between two sheets of greaseproof paper or clear film and pound with the flat side of a meat pounder or roll with a rolling pin to flatten to about 4 cm/1½ in thick. Season with salt and pepper.
---
5 Heat the oil in a heavy frying pan over a medium-high heat. Add the meat and cook for about 10-12 minutes, turning once, until done as preferred (medium-rare meat will be slightly soft when pressed, medium will be springy and well-done firm).

NUTRITION FACTS
Calories: 490.4 Kcal
Fat: 31.3 g
Cholesterol: 114.6 mg
Sodium: 925.7 mg
Potassium: 252.9 mg
Carbs: 3.9 g
Protein: 27.2 g
COOK'S TIP
Beef fillet is often cheaper when bought whole than when it has been divided into steaks. If you buy a whole fillet, you can cut a Chateaubriand from the thickest part, filet mignon steaks from less thick parts, tournedos from the thinner part and use the thinnest tail part for stir-frying or Stroganoff. If you wish, wrap tightly and freeze until needed.