Leg of lamb is the classic Sunday roast. In France, the shank bone is not removed, but it is cut through for easier handling. The roast is often served with haricot or flageolet beans.
SERVES: 8-10
PREP TIME: 20 min
COOK TIME: 1 hour 30 min
READY TIME: 1 hour 50 min
CUISINE: French
CALORIES: 645 (per serving)
⇓ You may also listen to the recipe by pressing the play button below.
INGREDIENTS
7-3 kg/6-7 lb leg of lamb
3 or 4 garlic cloves
Olive oil
Fresh or dried rosemary leaves
450 g/1 lb dried haricot or flageolet beans, soaked overnight in cold water
1 bay leaf
30 ml/2 tbsp red wine
150 ntl/1/4 pint/2/3 cup lamb or beef stock
30 g/1 oz/2 tbsp butter
Salt and freshly ground black pepper
Watercress, to garnish
INSTRUCTIONS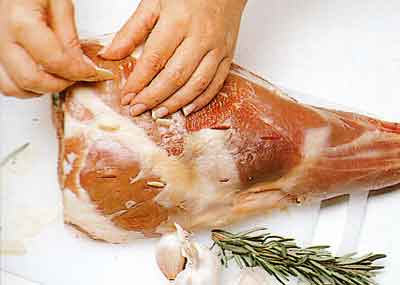 1 Preheat the oven to 220°C/ 425°F/Gas 7. Wipe the leg of lamb with damp kitchen paper and dry the fat covering well. Cut 2 or 3 of the garlic cloves into 10-12 slivers, then with the tip of a knife, cut 10-12 slits into the lamb and insert the garlic slivers into the slits. Rub with oil, season with salt and pepper and sprinkle with rosemary.
---
2 Set the lamb on a rack in a shallow roasting tin and put in the oven. After 15 minutes, reduce the heat to 180°C/350°F/Gas 4 and continue to roast for 11/2-13/4 hours (about 18 minutes per 450g/1 lb) or until a meat thermometer inserted into the thickest part of the meat registers 57-60°C/135-140°F for mediumrare to medium meat or 66°C/150°F for well-done.
3 Meanwhile, rinse the beans and put in a saucepan with enough fresh water to cover generously. Add the remaining garlic and the bay leaf, then bring to the boil. Reduce the heat and simmer for 45 minutes-1 hour, or until tender.

4 Transfer the roast to a board and stand, loosely covered, for 10-15 minutes. Skim off the fat from the cooking juices, then add the wine and stock to the roasting tin. Boil over a medium heat, stirring and scraping the base of the tin, until slightly reduced. Strain into a warmed gravy boat.

---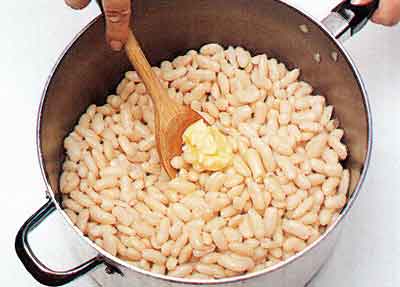 5 Drain the beans, discard the bay leaf, then toss the beans with the butter until it melts and season with salt and pepper. Garnish the lamb with watercress and serve with the beans and the sauce.
---
NUTRITION FACTS
Calories: 645 Kcals
Fat: 28.2 g
Carbs: 12.2 g
Sugars: 5 g
Salt: 1.9 g
Protein: 8.1 g