This recipe is perfect for entertaining. You can coat the lamb with the crust before your guests arrive, and put it in the oven when you sit down for the first course.
SERVES: 6-8
PREP TIME: 30 min
COOK TIME: 1 hour
READY TIME: 1 hour 30 min
CUISINE: French
CALORIES: 335 (per serving)
⇓ You may also listen to the recipe by pressing the play button below.
INGREDIENTS
3 racks of lamb (7—8 ribs each), trimmed of fat, bones "French" trimmed
2 or 3 garlic cloves
120 g/4 oz (about 4 slices) white or wholemeal bread, torn into pieces
25 ml/1½ tbsp fresh thyme leaves or 15 ml/1 tbsp rosemary leaves
25 ml/1½ tbsp Dijon mustard
Freshly ground black pepper
30 ml/2 tbsp olive oil
Fresh rosemary, to garnish
New potatoes, to serve
INSTRUCTIONS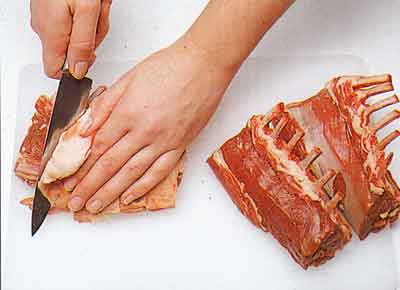 1 Preheat the oven to 220°C/ 425°F/Gas 7. Trim any remaining fat from the lamb, including the fat covering over the meat.
---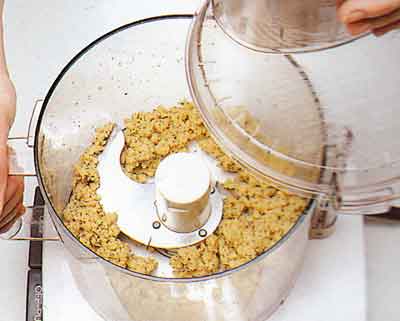 2 In a food processor fitted with the metal blade, with the machine running, drop the garlic through the feed tube and process until finely chopped. Add the bread, herbs, mustard and a little pepper and process until combined, then slowly pour in the oil.
---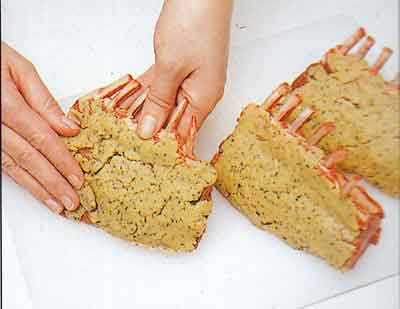 3 Press the mixture on to the meaty side and ends of the racks, completely covering the surface.
---
4 Put the racks in a shallow roasting tin, and roast for about 25 minutes for medium-rare or 3-5 minutes more for medium (a meat thermometer inserted into the thickest part of the meat should register 57-60°C/135-140°F for medium-rare to medium). Transfer the meat to a carving board or warmed platter. Cut down between the bones to carve into chops. Serve garnished with rosemary and accompanied by new potatoes.

NUTRITION FACTS
Calories: 335.6 Kcal
Fat: 13.8 g
Cholesterol: 172.4 mg
Sodium: 359.0 mg
Potassium: 359.8 mg
Carbs: 0.8 g
Protein: 46.6 g
TIP
When pairing wine with meat, always consider the flavors that are in the sauce. A Tuscan Sangiovese has the earthiness, dried-fruit notes and juiciness to go with this pan sauce.