The Normandy countryside is full of picturesque apple orchards and herds of grazing cows. Many regional dishes contain apples or Calvados and rich Normandy cream.
SERVES: 2
PREP TIME: 5 min
COOK TIME: 15 min
READY TIME: 20 min
CUISINE: French
CALORIES: 370 (per serving)
⇓ You may also listen to the recipe by pressing the play button below.
INGREDIENTS
2 boneless pheasant breasts
30 g/ 1 oz/2 tbsp butter
1 onion, thinly sliced
1 eating apple, peeled and quartered
10 ml / 2 tsp sugar
60 ml / 4 tbsp Calvados
60 ml / 4 tbsp chicken stock
1.5 ml / 1/4 tsp dried thyme
1.5 ml / 1/4 tsp white pepper
125 ml / 4 fl oz/1/2 cup whipping cream
Salt
Sauteed potatoes, to serve
INSTRUCTIONS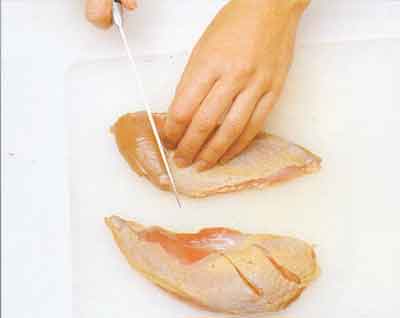 1 With a sharp knife, score the thick end of each pheasant breast.
---
2 In a medium heavy frying pan melt half of the butter over a medium heat. Add the onion and cook for 8-10 minutes until golden, stirring occasionally. Using a slotted spoon, transfer the onion to a plate.
3 Cut each apple quarter crossways into thin slices. Melt half of the remaining butter in the pan and add the apple slices. Sprinkle with the sugar and cook the apple slices slowly for 5-7 minutes until golden and caramelized, turning occasionally. Transfer the apples to the plate with the onion, then wipe out the pan.

---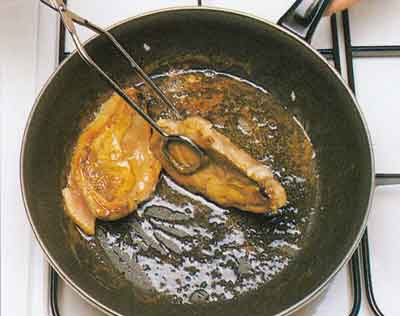 4 Add the remaining butter to the pan and increase the heat to medium-high. Add the pheasant breasts, skin side down, and cook for 3-4 minutes until golden. Turn and cook for a further 1-2 minutes until the juices run slightly pink when the thickest part of the meat is pierced with a knife. Transfer to a board and cover to keep warm.
---
5 Add the Calvados to the pan and boil over a high heat until reduced by half. Add the stock, thyme, a little salt and the white pepper and reduce by half again. Stir in the cream, bring to the boil and cook for 1 minute. Add the reserved onion and apple slices to the pan and cook for 1 minute.

6 Slice each pheasant breast diagonally and arrange on warmed plates. Spoon over a little sauce with the onion and apples.
NUTRITION FACTS
Calories: 370.0 kcal
Fat: 28.5 g
Sugars: 9.1 g
Salt: 0.8 g
Protein: 44.4 g
COOK'S TIP
If you can't find Calvados, substitute Cognac, cider or apple juice instead.
Add a splash of cider or Calvados to the sauce for a more complex flavour.
PREPARING AHEAD: Cook a day ahead, slightly undercooking, then reheat gently until hot. Freeze for up to a month add cream and lemon juice when reheating.