There are many versions of this French bistro classic, some omit the cream, but it helps to balance the heat of the pepper. Use fairly thick steaks, such as fillet or lean sirloin.
SERVES: 2
PREP TIME: 15 min
COOK TIME: 45 min
READY TIME: 1 hour
CUISINE: French
CALORIES: 218 (per serving)
⇓ You may also listen to the recipe by pressing the play button below.
INGREDIENTS
30 ml/2 tbsp black peppercorns
2 fillet or sirloin steaks, about 225 g/8 oz each
15 g/1/2 oz/1 tbsp butter
10 ml/2 tsp vegetable oil
45 ml/3 tbsp brandy
150 ml/1/4 pint/2/3 cup whipping cream
1 garlic clove, finely chopped
Salt, if needed
INSTRUCTIONS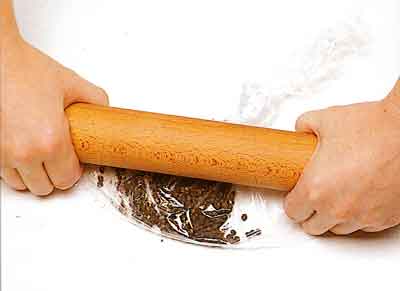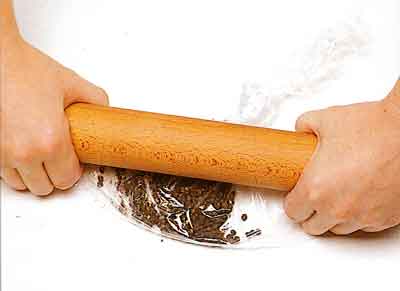 1 Place the peppercorns in a sturdy polythene bag. Crush with a rolling pin until medium-coarse or, using the flat base of a small heavy saucepan, press down on the peppercorns, rocking the pan to crush them.
---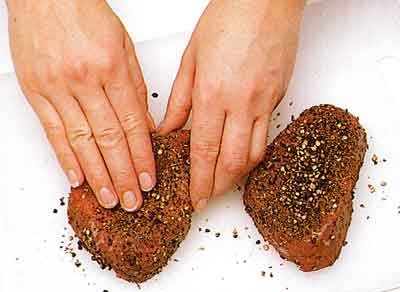 2 Put the steaks on a board and trim away any extra fat. Press the pepper on to both sides of the meat, coating it completely.
---
3 Melt the butter with the oil in a heavy frying pan over a medium-high heat. Add the meat and cook for 6-7 minutes, turning once, until done as preferred (medium-rare meat will still be slightly soft when pressed, medium will be springy and well-done firm). Transfer the steaks to a warmed platter or plates and cover to keep warm.
---
4 Pour in the brandy to deglaze the pan. Allow to boil until reduced by half, scraping the base of the pan, then add the cream and garlic. Boil gently over a medium heat for about 4 minutes until the cream has reduced by one-third. Stir any accumulated juices from the meat into the sauce, taste and add salt, if necessary, then serve the steaks with the sauce.
NUTRITION FACTS
Calories: 218.5 Kcal
Fat: 7.2 g
Cholesterol: 77.7 mg
Sodium: 79.3 mg
Potassium: 133.3 mg
Carbs: 6.3 g
Protein: 30.4 g
TIPS
If you're an avid home cook, smoked paprika may be a worthwhile investment. Its rich and smoky flavor adds complexity to many dishes. The spice is especially good in lentil and bean soups, where it lends a robust, meaty flavor. You could also use smoked paprika in recipes that call for ground chipotle pepper. Just add cayenne or chili powder if needed to boost the heat.
Three ounces (a serving the size of a deck of cards) of cooked sirloin steak, pork loin, tuna, chicken or turkey breast provides about 25 grams of protein.