The colourful spicy cuisines of French colonial North Africa have left their mark on French cooking. Tagine, named after the conical-shaped pottery dish in which it is cooked, is a favourite.
SERVES: 6-8
PREP TIME: 15 min
COOK TIME: 2 hours
READY TIME: 2 hours 15 min
CUISINE: French
CALORIES: 243 (per serving)
⇓ You may also listen to the recipe by pressing the play button below.
INGREDIENTS
225 g/8 oz 1 1⁄3 cups dried chick-peas soaked in cold water overnight
60 ml/4 tbsp olive oil
10 ml/2 tsp sugar
10 ml/2 tsp ground cumin
5 ml/1 tsp ground cinnamon
5 ml/1 tsp ground ginger
2.5 ml/1/2 tsp ground turmeric
2.5 ml/1/2 tsp powdered saffron or paprika
1.3 kg/3 lb lamb shoulder, trimmed of all fat and cut into 5 cm/2 in pieces
2 onions, coarsely chopped
3 garlic cloves, finely chopped
2 tomatoes, peeled, seeded and chopped
75 g/3 oz/2/3 cup raisins, soaked in warm water
10-24 stoned black olives (such as Kalamata)
2 preserved lemons, thinly sliced, or grated rind of 1 unwaxed lemon
60—90 ml/4-6 tbsp chopped fresh coriander
Salt and freshly ground black pepper
450 g/1 lb couscous, to serve
INSTRUCTIONS
1 Drain the chick-peas, rinse under cold running water and place in a large saucepan, then cover with water and boil vigorously for 10 minutes. Drain the chick-peas and return to a clean saucepan. Cover with fresh cold water and bring to the boil over a high heat, then reduce the heat and simmer, covered, for about 1—11/2 hours until tender. Remove the pan from the heat, add a little salt and set aside.
2 In a large bowl, combine half the olive oil with the sugar, cumin, cinnamon, ginger, turmeric, saffron or paprika, pepper and 5 ml/1 tsp salt. Add the lamb, toss to coat well and set aside for 20 minutes.
---
3 In a large heavy frying pan, heat the remaining oil over a medium-high heat. Add enough lamb to fit easily in one layer (do not overcrowd the pan) and cook for 4—5 minutes, turning the pieces to colour all sides, until well browned. Transfer to a large flameproof casserole and continue browning the meat in batches, adding a little more oil if necessary.
---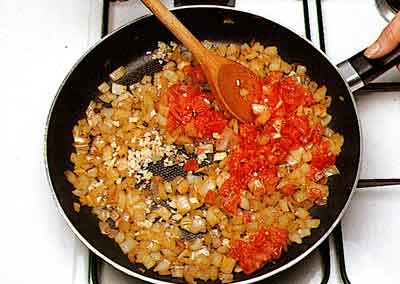 4 Add the onions to the pan and stir constantly until well browned. Stir in the garlic and tomatoes with 250 ml/8 fl oz/1 cup water, stirring and scraping the base of the pan. Pour into the casserole and add enough water to just cover, then bring to the boil over a high heat, skimming any foam that rises to the surface. Reduce the heat to low and simmer for about 1 hour, or until the meat is tender when pierced with a knife.
---
5 Drain the chick-peas, reserving the liquid, and add to the lamb in the casserole with about 250 ml/8 fl oz/1 cup of the liquid. Stir in the raisins and their soaking liquid and simmer for 30 minutes more. Stir in the olives and sliced preserved lemons or lemon rind and simmer 20-30 minutes more, then add half the chopped coriander.
---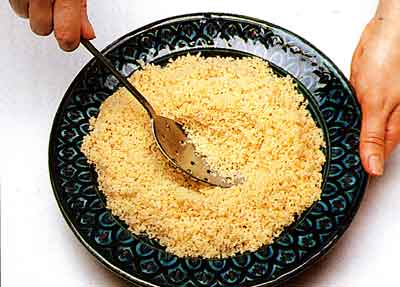 6 About 1/2 hour before serving, prepare the couscous according to the instructions on the packet. Spoon the couscous on to a warmed serving dish, spoon the lamb stew on top and sprinkle with the remaining fresh coriander.
---
NUTRITION FACTS
Calories: 243.4 Kcal
Fat: 8.2 g
Cholesterol: 39.4 mg
Sodium: 1,256.6 mg
Potassium: 685.9 mg
Carbs: 26.3 g
Protein: 17.5 g
COOK'S TIP
Preserved lemons are frequently used in Morrocan-style cooking. They are available in delicatessens and food halls but, if you can't find them, a little grated lemon rind makes an adequate substitute.
Slow-Cooker Instructions: If you prefer, transfer the lamb stew to a large slow cooker insert. Cover and cook on high for 3 to 4 hours, or on low for 5 to 6 hours.