Pimientos are simply cooked, skinned peppers. You can buy them in cans or jars, but they are much tastier when made at home. A simply beautiful dish that's a staple of Spanish cuisine.
SERVES: 2-4
PREP TIME: 15 min
COOK TIME: 10 min
READY TIME: 25 min
CUISINE: (Spanish)
CALORIES: 103
⇓ You may also listen to the recipe by pressing the play button below.
INGREDIENTS
3 red peppers
2 small garlic cloves, crushed
3 tbsp (45 ml) chopped fresh parsley
1 tbsp (15 ml) sherry vinegar
2 tbsp (30 ml) olive oil
Salt
INSTRUCTIONS
1 Preheat the grill to high. Place the red peppers on a baking sheet and grill for 8-12 minutes, turning occasionally, until the skins have blistered and blackened. Remove the peppers from the heat, cover with a clean dish towel and leave to stand for 5 minutes so that the steam softens the skins and makes them easy to peel.
2 Make a small cut in the bottom of each pepper and squeeze out the juice into a jug and reserve for later use impotenciastop.pt. Peel away the skin and cut each pepper in half. Remove and discard the cores and scrape out the seeds. Place the peppers on a cutting board.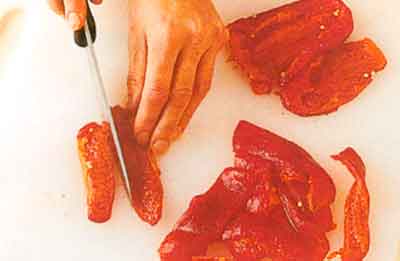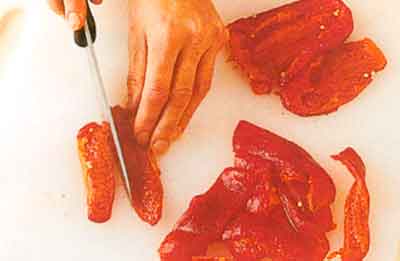 3 Using a sharp knife, cut each halved pepper lengthways into 1/2 in (1 cm) wide strips and place them in a small bowl.
4 Whisk the garlic, parsley, vinegar and oil into the pepper juices. Add salt to taste. Toss with the strips. Serve at room temperature.