Serving vinaigrette sauces with meat came in with nouvelle cuisine and stayed. This one offers a classic combination – lamb and mint – in a new style.
SERVES: 4
PREP TIME: 20 min
COOK TIME: 10 min
READY TIME: 30 min
CALORIES: 152 (per serving)
⇓ You may also listen to the recipe by pressing the play button below.
INGREDIENTS
8 loin lamb chops or 4 double loin chops (about 2 cm/ 3/4 in thick)
Coarsely ground black pepper
Fresh mint, to garnish
Sauteed potatoes, to serve
FOR THE WINT VINAIGRETTE:
30 ml/2 tbsp white wine vinegar
2.5 ml/1/2 tsp clear honey
1 small garlic clove, very finely chopped
60 ml/4 tbsp extra virgin olive oil
20 g/3/4 oz /1/3 cup (packed) fresh mint leaves, finely chopped
1 ripe plum tomato, peeled, seeded and finely diced
Salt and freshly ground black pepper
INSTRUCTIONS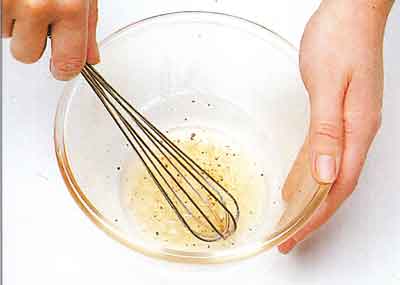 1 To make the vinaigrette, put the vinegar, honey, garlic, salt and pepper in a small bowl and whisk thoroughly to combine.
---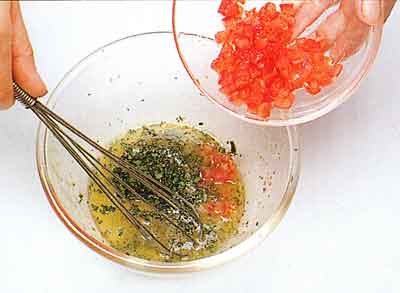 2 Slowly whisk in the oil, then stir in the mint and tomatoes and set aside for up to 1 hour.
---
3 Put the lamb chops on a board and trim off any excess fat. Sprinkle with the pepper and press on to both sides of the meat, coating it evenly.
---
4 Lightly oil a heavy cast iron griddle and set over a high heat until very hot but not smoking. Place the chops on the griddle and reduce the heat to medium. Cook the chops for 6-7 minutes, turning once, or until done as preferred (medium-rare meat will still be slightly soft when pressed, medium will be springy and well-done firm). Serve the chops with the vinaigrette and the sauteed potatoes, garnished with mint.
NUTRITION FACTS
Calories: 152.7 Kcal
Fat: 5.6 g
Cholesterol: 72.6 mg
Sodium: 81.0 mg
Potassium: 388.2 mg
Carbs: 0.3 g
Protein: 23.2 g
COOK'S TIP
The chops may also be grilled under a preheated grill or barbecued over charcoal until done as you like.