These prawns couldn't be more simple, or quicker to prepare — yet they're deceptively impressive in terms of flavor and appearance. A winning starter for any special meal.
SERVES: 4
PREP TIME: 5 min
COOK TIME: 2-3 min
READY TIME: 8 min
CALORIES: 303 per serving
⇓ You may also listen to the recipe by pressing the play button below.
INGREDIENTS
12 raw king prawns or tiger prawns, peeled
30 ml/2 tbsp olive oil
30 ml/2 tbsp sherry
A few drops of Tabasco sauce
Salt and ground black pepper
INSTRUCTIONS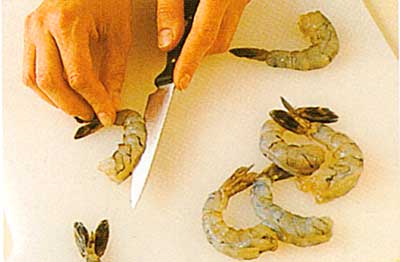 1 Make a shallow cut down the back of each prawn, then pull out and discard the dark intestinal tract. Leave the tails on the prawns; when they are cooked they will curl and look more decorative.
2 Heat the oil in a frying pan and fry the prawns for 2—3 minutes until pink.
3 Pour over the sherry and season with Tabasco sauce, salt and pepper.

4 Tip the prawns into a dish and serve immediately.