A delicious combination from Spain, using fresh dates and spicy chorizo sausage.
SERVES: 4-6
PREP TIME: 5 min
COOK TIME: 5 min
READY TIME: 10 min
CUISINE: Spanish
CALORIES: 166.4 per serving
⇓ You may also listen to the recipe by pressing the play button below.
INGREDIENTS
2 oz (50 g) chorizo sausage
12 fresh dates, stoned
5 streaky bacon rashers
Oil for frying
Plain flour for dusting
1 egg, beaten
1 cup (2 oz/50 g) fresh breadcrumbs
Cocktail sticks for serving
INSTRUCTIONS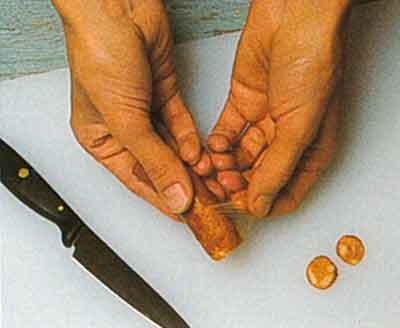 1 Trim the ends of the chorizo sausage and peel away the skin. Cut into three ¾ in (2 cm) slices. Cut these in half lengthways, then into quarters, giving 12 pieces.
2 Stuff each date with a piece of chorizo, closing the date around it. Stretch the bacon, by running the back of a knife along the rasher. Cut each rasher in half, widthways. Wrap a piece of bacon around each date and secure with a cocktail stick.
3 In a deep pan, heat ½ in (1 cm) of oil. Dust the dates with flour, dip them in the beaten egg, then coat in breadcrumbs. Fry the dates in the hot oil, turning them, until golden. Remove the dates with a slotted spoon, and drain on kitchen paper. Serve immediately.