This is the sort of satisfying home cooking found in farmhouse kitchens and cosy neighbourhood restaurants in France, where rabbit is treated much like chicken and enjoyed frequently.
SERVES: 4
PREP TIME: 10 min
COOK TIME: 1 hour
READY TIME: 1 hour 10 min
CALORIES: 246 (per serving)
⇓ You may also listen to the recipe by pressing the play button below.
INGREDIENTS
1.2 kg/2½ lb rabbit
40 g/1½ oz/1/4 cup plain flour
15 g/1/2oz/l tbsp butter
15 ml/1 tbsp olive oil
250 ml/8 fl oz/1 cup red wine
350—500 ml/12—16 fl oz/1½—2 cups chicken stock
15 ml/1 tbsp fresh thyme leaves, or 10 ml/2 tsp dried thyme
1 bay leaf
2 garlic cloves, finely chopped
10— 15 ml 12—3 tsp Dijon mustard
Salt and freshly ground black pepper
INSTRUCTIONS
1 Cut the rabbit into eight serving pieces: chop the saddle in half and separate the back legs into two pieces each; leave the front legs whole.
---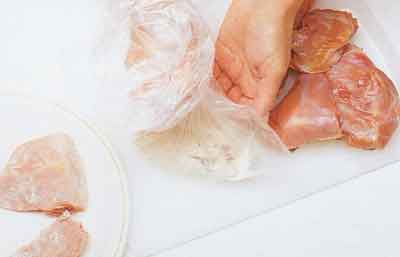 2 Put the flour in a polythene bag and season with salt and pepper. One at a time, drop the rabbit pieces into the bag and shake to coat them with flour. Tap off the excess, then discard any remaining flour.
---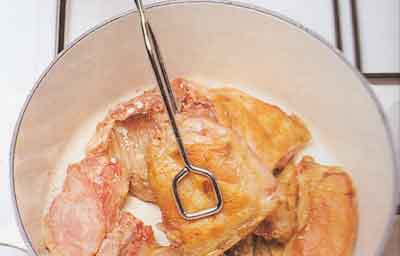 3 Melt the butter with the oil over a medium-high heat in a large flameproof casserole. Add the rabbit pieces and cook until golden, turning to colour evenly.
---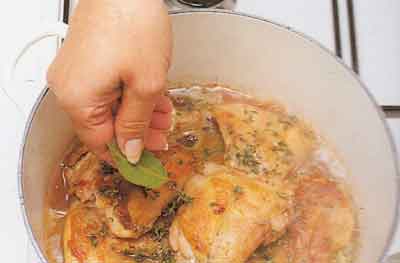 4 Add the wine and boil for 1 minute then add enough of the stock just to cover the meat. Add the herbs and garlic, then simmer gendy, covered, for 1 hour, or until the rabbit is very tender and the juices run clear when the thickest part of the meat is pierced with a knife.
---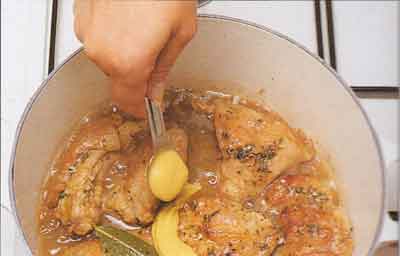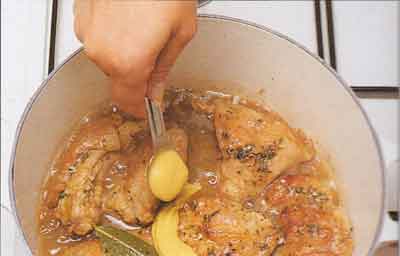 5 Stir in the mustard, adjust the seasoning and strain the sauce. Arrange the rabbit pieces on a warmed serving platter with some sauce and serve the rest separately.
---
NUTRITION FACTS
Calories: 246.6
Fat: 6.4 g
Cholesterol: 61.2 mg
Sodium: 165.6 mg
Potassium: 254.2 mg
Carbs: 20.4 g
Protein: 20.1 g
TIPS
Suggested Pairing: Complement this herb-infused dish with a hearty red such as Barbaresco.