A rib of beef is a popular cut in France and a cote de boeuf, serving two, is often found on bistro menus. The cooking technique of browning first, then finishing in the oven is typically French.
SERVES: 2-4
PREP TIME: 15 min
COOK TIME: 1 hour 30 min
READY TIME: 1 hour 45 min
CALORIES: 230 (per serving)
⇓ You may also listen to the recipe by pressing the play button below.
INGREDIENTS
1 beef rib with bone, about l kg/2¼ lb and about 4 cm/1½ in thick, well trimmed of fat
5 ml/1 tsp "steak pepper" or lightly crushed black peppercorns
15 ml/1 tbsp coarse sea salt, crushed
55 g/2 oz/4 tbsp unsalted butter
For the onion sauce
1 large red onion or 8—10 shallots, sliced
250 ml/8 fl oz/1/2 cup fruity red wine
250 ml/8 fl oz/1/2 cup beef or chicken stock
15-30 ml/l-2 tbsp redcurrant jelly or seedless raspberry preserve
1.5 ml/1/4 tsp dried thyme
30-45 ml/2-3 tbsp olive oil
Salt and freshly ground black pepper
INSTRUCTIONS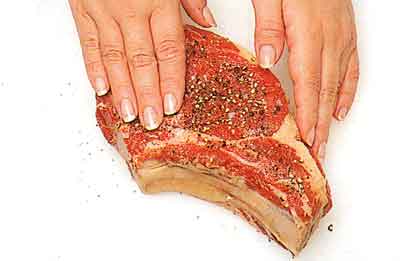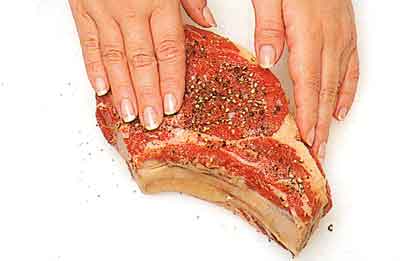 1 Wipe the beef with damp kitchen paper. Mix the "steak pepper" or crushed peppercorns with the crushed salt and press on to both sides of the meat, coating it completely. Leave to stand, loosely covered, for 30 minutes.
---
2 To make the sauce, melt 40 g 1/2 oz/3 tbsp of the butter in a stainless steel saucepan over a medium heat. Add the onion or shallots and cook for 3-5 minutes until softened, then add the wine, stock, jelly or preserve and thyme and bring to the boil. Reduce the heat to low and simmer for 30-35 minutes until the liquid has evaporated and the sauce has thickened. Season with salt and pepper and keep warm.
---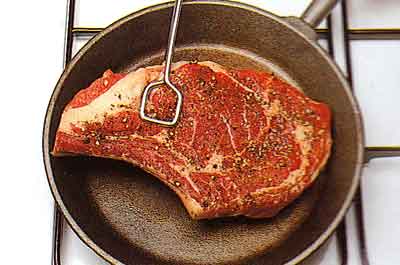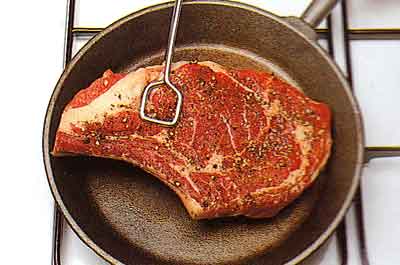 3 Preheat the oven to 220°C/ 425°F/Gas 7. Melt the remaining butter with the oil in a heavy ovenproof frying pan or large flameproof casserole over a high heat. Add the meat and cook for 1-2 minutes until browned, turn and cook for 1-2 minutes on the other side. Immediately place the pan or casserole in the oven and roast for 8-10 minutes. Transfer the beef to a board, cover loosely and leave to stand for 10 minutes. With a knife, loosen the meat from the rib bone, and then carve into thick slices. Serve with the onion sauce.
NOTE
Don't have an oven safe pot? You can let it simmer, covered, in a regular pot on the stove for 2.5 hours.
300 g/10 oz bone-in weight raw should be enough per serving as they are rich. But recipe makes enough sauce for up to 400 g/14 oz ribs.
Sauce: reduces by half so should be thickened to syrup consistency. If not, simmer on stove for a bit.

Sauce excess fat: If the sauce is too fatty for your taste, pour it into a jug and leave for a bit so the fat rises to the surface, then scoop it off.

Bone attachment: In order for the meat to be fork tender, it needs to be cooked far enough so that the connective tissue holding the meat to the bone becomes tender. So the meat is not really attached. But if you handle it carefully, it stays together.

Remove bone: At some fine dining restaurants, beef short ribs are served without the bone. The bone is removed, the fatty bit on the underside of the meat that was attached to the bone is cut off and the meat is served by itself. It looks quite posh!
NUTRITION FACTS
Calories: 231.1 Kcal
Fat: 8.1 g
Cholesterol: 66.9 mg
Sodium: 76.6 mg
Potassium: 478.4 mg
Carbs: 11.7 g
Protein: 24.1 g