There are as many versions of this regional speciality in Southwest France as there are towns.
SERVES: 6-8
PREP TIME: 1 hour
COOK TIME: 2 hours
READY TIME: 3 hours
CALORIES: 486 (per serving)
⇓ You may also listen to the recipe by pressing the play button below.
INGREDIENTS
450 g/1 lb dried white beans (haricot or cannellini), soaked overnight in cold water, then rinsed and drained
675 g/11/2 lb Toulouse sausages
550 g/11/4 lb each boneless lamb and pork shoulder, cut into 5 cm/2 in pieces
1 large onion, finely chopped
3 or 4 garlic cloves, very finely chopped
4 tomatoes, peeled, seeded and chopped
300 ml 1/2 pint/1 1/4 cups chicken stock
Bouquet garni
60 ml/4 tbsp fresh breadcrumbs
Salt and freshly ground black pepper
INSTRUCTIONS
1 Put the beans in a saucepan with water to cover. Boil vigorously for 10 minutes and drain, then return to a clean saucepan, cover with water and bring to the boil. Reduce the heat and simmer for 45 minutes, or until tender, then add a little salt and leave to soak in the cooking water.
---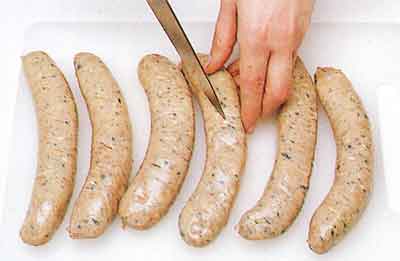 2 Preheat the oven to 180°C/ 350°F/Gas 4. Prick the sausages, place them in a large heavy frying pan over a medium heat and cook for 20-25 minutes until browned, turning occasionally. Drain on kitchen paper and pour off all but 15 ml/l tbsp of the fat from the pan.
---
3 Increase the heat to medium-high. Season the lamb and pork and add enough of the meat to the pan to fit easily in one layer. Cook until browned, then transfer to a large dish. Continue browning in batches.

---
4 Add the onion and garlic to the pan and cook for 3—4 minutes until just soft, stirring. Stir in the tomatoes and cook for 2—3 minutes, then transfer the vegetables to the meat dish. Add the stock and bring to the boil, then skim off the fat.

---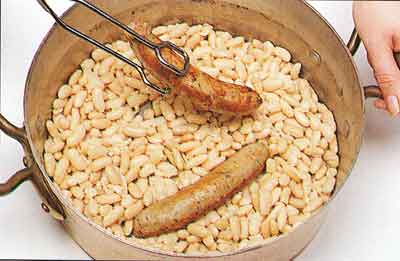 5 Spoon a quarter of the beans into a large casserole, and top with a third of the sausages, meat and vegetables.
---
6 Continue layering, ending with a layer of beans. Tuck in the bouquet garni, pour over the stock and top up with enough of the bean cooking liquid to just cover.

---
7 Cover the casserole and bake for 2 hours (check and add more bean cooking liquid if it seems dry). Uncover the casserole, sprinkle over the breadcrumbs and press with the back of a spoon to moisten them. Continue cooking the cassoulet, uncovered, for about 20 minutes more until browned.

---
NUTRITION FACTS
Calories: 489 Kcal
Fat: 30 g
Cholesterol: 83 mg
Sodium: 762 mg
Potassium: 604 mg
Carbs: 27 g
Protein: 25 g
NOTE
Start this recipe a day ahead. For duck fat, scrape excess fat from the duck confit and use for cooking. Both the duck confit and Toulouse-style sausages are available from delicatessens and some butchers. Don't use cannellini beans for this dish as they will fall apart during the long cooking process.