This Alsatian speciality shows the German influence on the region's cuisine. Strasbourg is renowned for its pork and beef sausages – use them if you can.
SERVES: 8
PREP TIME: 15 min
COOK TIME: 2 hours
READY TIME: 2 hours 15 mins
CUISINE: French
CALORIES: 248 (per serving)
⇓ You may also listen to the recipe by pressing the play button below.
INGREDIENTS
30 ml/2 tbsp vegetable oil
1 onion, halved and sliced
120 g/4 oz smoked rindless streaky bacon rashers, chopped
900 g/2 lb bottled sauerkraut, well rinsed and drained
1 apple, peeled and sliced
1 or 2 bay leaves
2.5 ml/1/2 tsp dried thyme
4-5 juniper berries
250 ml/8 fl oz/1 cup dry white wine
125 ml/4 fl oz/1 cup apple juice or water
6 Strasbourg sausages, knackwurst or frankfurters
6 spareribs
900 g/2 lb small potatoes, peeled
4 smoked gammon chops or steaks
Salt and freshly ground black pepper
INSTRUCTIONS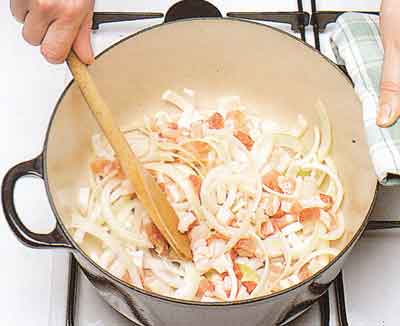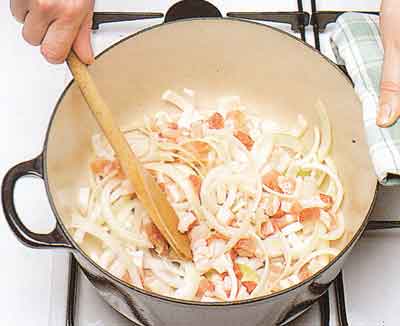 1 Preheat the oven to 150°C/ 300°F/Gas 2. Heat half the oil in a large flameproof casserole over a medium heat, then add the onion and bacon and cook, stirring occasionally for about 5 minutes until the onion is soft and the bacon just coloured.
---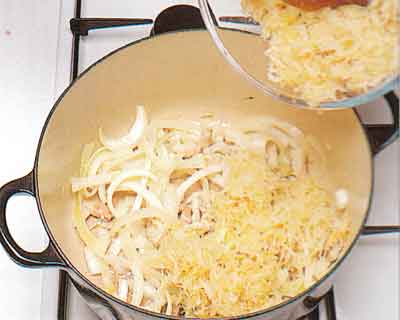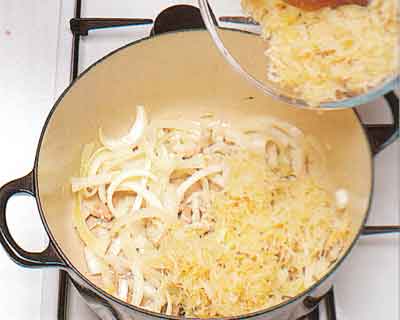 2 Tilt the pan and spoon off as much fat as possible, then stir in the sauerkraut, apple, bay leaves, thyme, juniper, wine and apple juice or water. Cover the casserole, place in the oven and cook for 30 minutes.
---
3 In a second large flameproof casserole, heat the remaining oil over a medium-high heat and add the spareribs. Cook, turning frequently, until browned on all sides. Add the spareribs to the other casserole with the sausages and cook, covered, for 11/2 hours, stirring occasionally.
---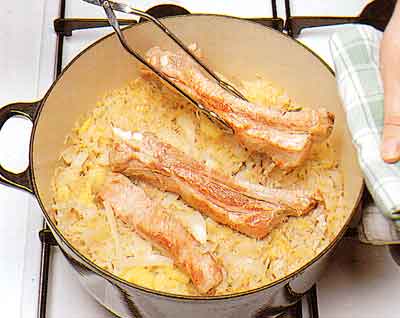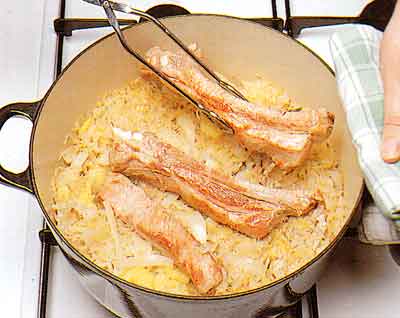 4 Bring a large saucepan of lightly salted water to the boil over a medium-high heat. Add the potatoes and cook for 10 minutes. Drain and add to the casserole with the pork chops. Push them into the sauerkraut and continue cooking, covered, for 30—45 minutes more. Season with salt, if needed, and pepper before serving.
---
VARIATION
Add about 1 cup of peeled, chopped apple to the sauerkraut mixture.
A layer of chopped onion (about 1 medium onion, chopped) may be added before you add the sauerkraut mixture.
Substitute Bratwurst or gourmet chicken sausage for the knockwurst.
Add 2 to 4 smoked pork chops to the pork loin and sausages and omit the knockwurst.
TIPS
For a classic choucroute garnie, add cut-up red-skinned potatoes around the pork roast and about 1/4 cup of dry white wine to the slow cooker.
If you prefer, you can also braise this in the oven for 4 to 5 hours instead of using the slow cooker.
NUTRITION FACTS
Calories: 248.6 Kcal
Fat: 17.1 g
Cholesterol: 65.0 mg
Sodium: 1,573.8 mg
Potassium: 198.6 mg
Carbs: 8.8 g
Protein: 15.5 g