Sage is often partnered with pork – there seems to be a natural affinity. The addition of orange brings complexity and balances the sometimes overpowering flavour of sage.
SERVES: 4
PREP TIME: 10 min
COOK TIME: 20 min
READY TIME: 30 min
CALORIES: 230 (per serving)
⇓ You may also listen to the recipe by pressing the play button below.
INGREDIENTS
2 pork fillets, about 350 g/12 oz each
15 g/1/2 oz/1 tbsp butter
125 ml/4 fl oz/1/2 cup dry sherry
175 ml/6 fl oz/3/4 cup chicken stock
2 garlic cloves, very finely chopped
Grated rind and juice of 1 unwaxed orange
3 or 4 sage leaves, finely chopped
10 ml/2 tsp cornflour
Salt and freshly ground black pepper
Orange wedges and sage leaves, to garnish
INSTRUCTIONS
1 Season the pork fillets lightly with salt and pepper. Melt the butter in a heavy flameproof casserole over a medium-high heat, then add the meat and cook for 5-6 minutes, turning to brown all sides evenly.
---
2 Add the sherry, boil for about 1 minute, then add the stock, garlic, orange rind and sage. Bring to the boil and reduce the heat to low, then cover and simmer for 20 minutes, turning once until the juices run clear when the meat is pierced with a knife or a meat thermometer inserted into the thickest part of the meat registers 66°C/150°F. Transfer the pork to a warmed platter and cover to keep warm.
---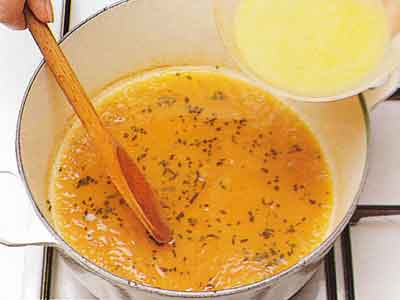 3 Bring the sauce to the boil. Blend the cornflour and orange juice and stir into the sauce, then boil gently over a medium heat for a few minutes, stirring frequently, until the sauce is slightly thickened. Strain into a gravy boat or serving jug.
---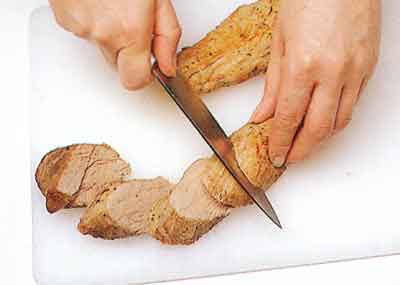 4 Slice the pork diagonally and pour the meat juices into the sauce. Spoon a little sauce over the pork and garnish with orange wedges, and sage leaves. Serve the remaining sauce separately.
---
NUTRITION FACTS
Calories: 231.6 Kcal
Fat: 10.2 g
Cholesterol: 89.5 mg
Sodium: 320.6 mg
Potassium: 412.8 mg
Carbs: 1.5 g
Protein: 31.3 g
TIP
For a delicious variation, substitute lime for the orange and cilantro for the sage!