Use the best pork chops for a tender result. This sauce is equally delicious with veal or chicken.
SERVES: 4
PREP TIME: 10 min
COOK TIME: 20 min
READY TIME: 30 min
CALORIES: 248 (per serving)
⇓ You may also listen to the recipe by pressing the play button below.
INGREDIENTS
15 g/1/2 oz/1 tbsp butter
15 ml/1 tbsp vegetable oil
4 large center loin pork chops, about 2.5 cm/1 in thick, trimmed
Salt and freshly ground black pepper
60 ml/4 tbsp white wine or chicken stock
2.5 ml/1/2 tsp dried thyme
250 ml/8 fl oz/1 cup whipping cream
5 ml/1 tsp tomato puree
15 ml/1 tbsp Dijon mustard
1 tomato, peeled, seeded and chopped
15 ml/1 tbsp chopped fresh tarragon, chervil or parsley
Fresh tarragon or other herbs, to garnish
Straw Potato Cakes, to serve
INSTRUCTIONS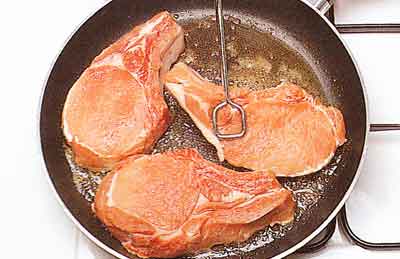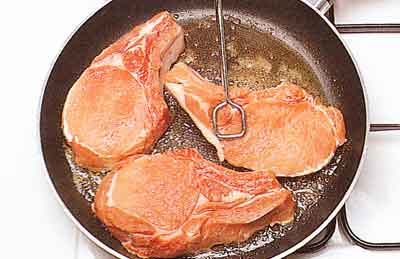 1 Melt the butter with the oil in a large heavy frying pan over a high heat until sizzling. Season the pork chops with salt and pepper, then add to the pan and reduce the heat to medium-high. Cook for 2-3 minutes on each side until browned, then transfer the pork chops to a plate and pour off all the fat.
---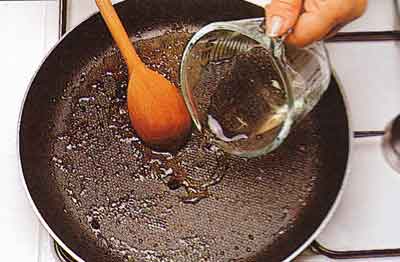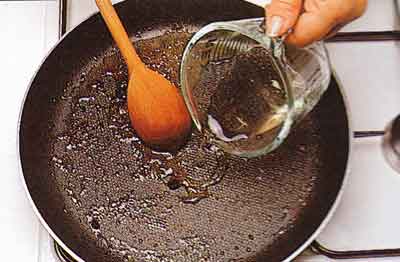 2 Add the wine or stock and thyme to the pan and bring to the boil. Cook for 2-3 minutes until the wine has almost evaporated.
---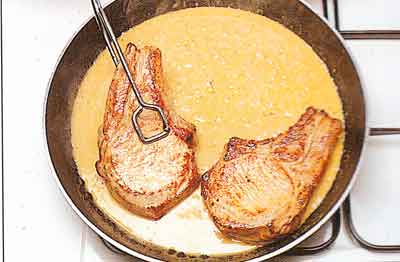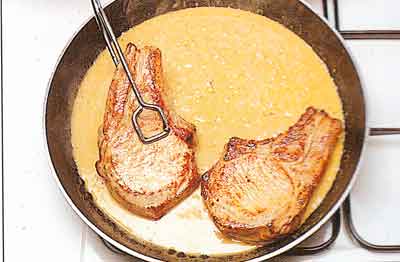 3 Add the cream and tomato puree and simmer for 2 minutes, stirring frequently, then return the pork chops to the sauce and cook for 4-5 minutes over a medium-low heat until just firm to the touch. Take care not to overcook.
---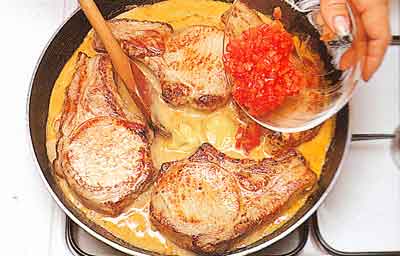 4 Add the mustard, chopped tomato and herbs, stirring and shaking the pan to distribute them, and cook for 1 minute to heat through. Serve the chops with the sauce, accompanied by Straw Potato Cakes and garnished with sprigs of tarragon or other fresh herbs.
---
NUTRITION FACTS
Calories: 248.3 Kcal
Fat: 13.6 g
Cholesterol: 66.5 mg
Sodium: 269.3 mg
Potassium: 575.5 mg
Carbs: 3.4 g
Protein: 26.9 g