⇓ You may also listen to the instructions by pressing the play button below
MATERIALS NEEDED
Pastry brush
Rolling pin
Plain flour
Unsalted butter
Vanilla essence
Egg yolks
INSTRUCTIONS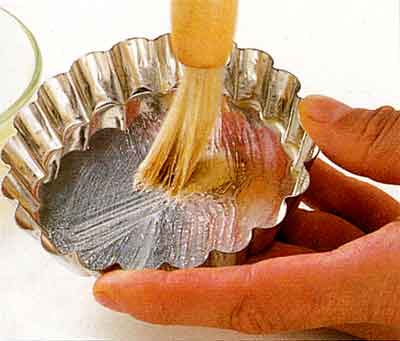 STEP 1: Melt a little butter and use to brush the tartlet tins.
---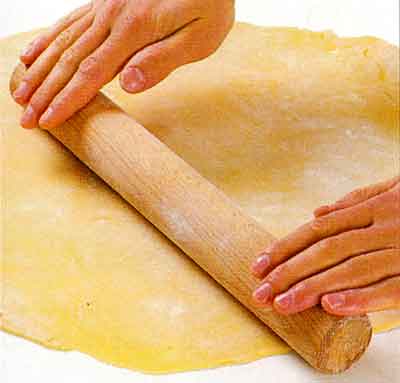 STEP 2:Lightly flour the work surface. Roll out the dough to a 3 mm (1/8 inch) thickness.
---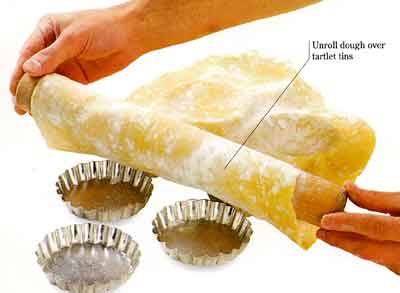 STEP 3: Group the tins together, with their edges nearly touching. Roll the dough loosely around the rolling pin and drape it over the tins so all are covered. "Unroll dough over tartlet tins"

---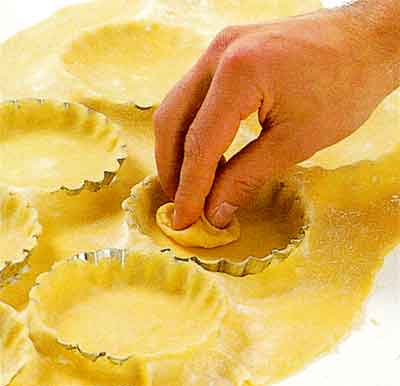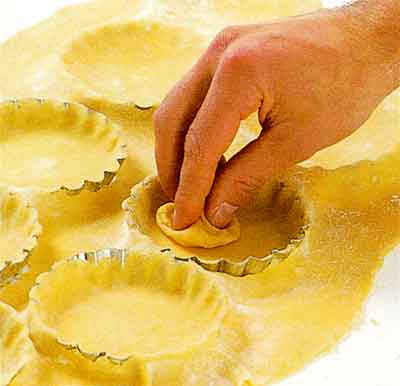 STEP 4: Tear off a small piece of dough from the edge, form it into a ball, dip it in flour, and use it to push the dough into the tins.

"Brush off any excess flour from the dough"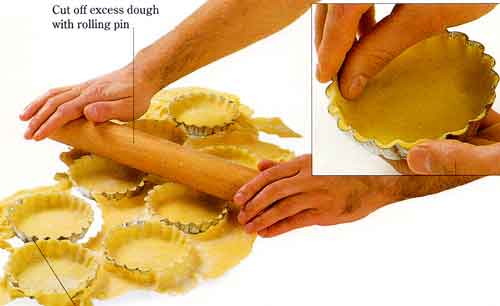 STEP 5: Roll the rolling pin over the tops of the tins to remove excess dough. With your fingers, press up the dough edges to form a deep shell. Cut off excess dough with rolling pin. Neat, flat edge will be cut this way.
---
"Excess pastry dough can be rolled out again and used to line any remaining tartlet tins."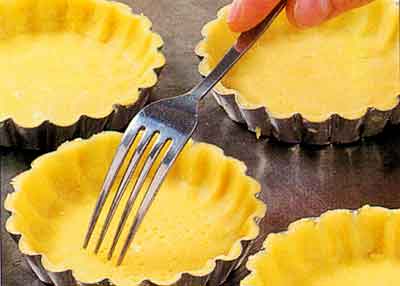 STEP 6: Set the tartlet tins on the baking sheet and prick the dough with the fork. Chill the tartlet shells until firm, about 30 minutes. Heat the oven to 200°C (400°F, Gas 6).
---
STEP 7: Line each tartlet shell with a piece of foil, pressing it down well. "Foil ensures that tartlet shell keeps its shape during baking"
---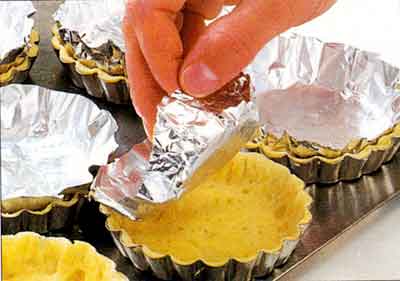 STEP 8:Bake the shells in the heated oven until the pastry is set, 6-8 minutes. Remove the foil and continue baking until thoroughly cooked, about 5 minutes longer.
---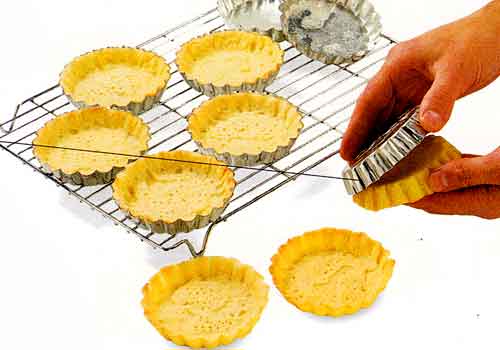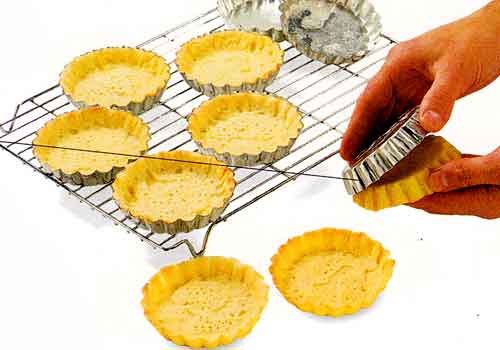 STEP 9: With the pie slice, transfer the tartlet tins to the wire rack to cool. When cold, remove each tartlet shell from its tin. "Handle tartlet shells with care so you do not damage them"
---
"Alternatively, omit the foil and line each tartlet shell with a tin of the same size, baking the dough in 2 batches"
RECIPE