A good fish stock is an essential ingredient in many of the recipes in this book, indispensable for giving a good flavour to chowders and stews, soups and sauces. The heads, tails and bones of white fish, such as cod and plaice, make excellent bases for fish stock. Oily fish are too rich and fatty to use. This stock can be frozen, when it should be used within two months.
⇓ You may also listen to the instructions by pressing the play button below
MATERIALS NEEDED
Fish parts
Frying pan
Saucepan
Chef's knife
1 onion
16 fl oz (500 ml)cold water, more if needed
3-5 sprigs of parsley
1 tsp (5 ml) peppercorns
8 fl oz (250 ml) White wine or juice of 1 lemon
INSTRUCTIONS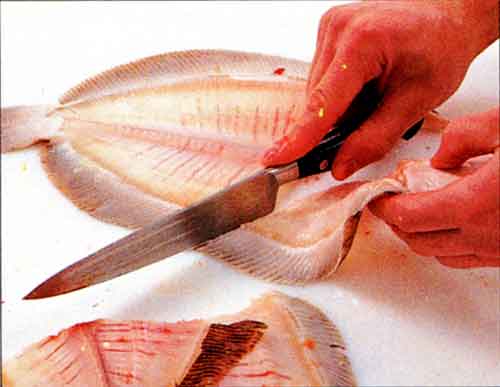 STEP 1: Cut the washed fish heads and bones into 4-5 pieces with the chefs knife.

---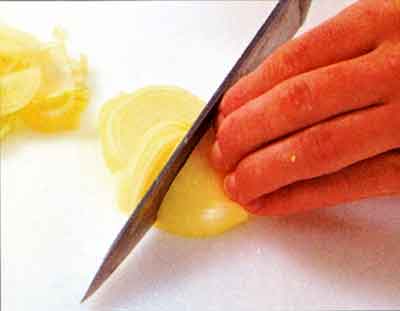 STEP 2:
Peel the onion, leaving a little of the root attached, and cut it in half through root and stalk. Cut each half vertically into thin slices.

---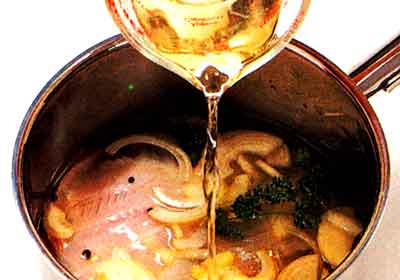 STEP 3:
Put the fish heads and bones in a medium saucepan. Add the onion, water, parsley, and peppercorns. Pour in the wine.

---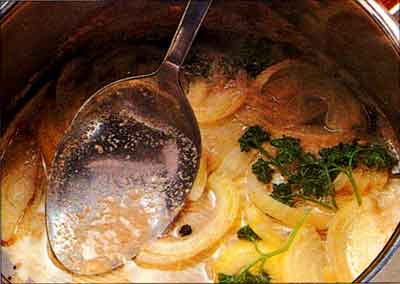 STEP 4:
Bring to a boil and simmer about 20 minutes, skimming occasionally with the large spoon.

---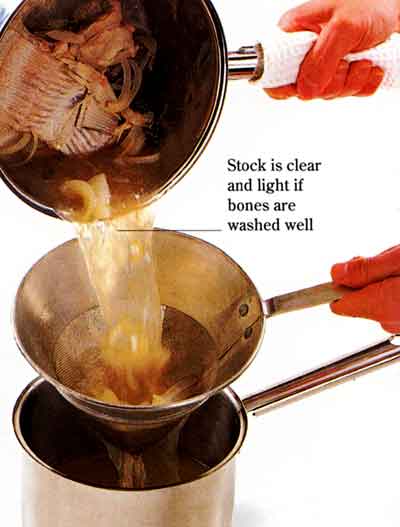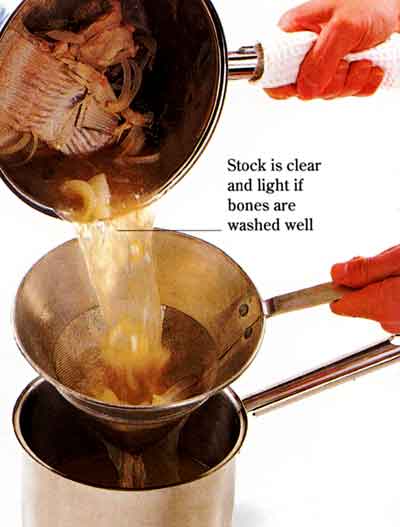 STEP 5:
Pour the fish stock through the sieve into a second saucepan, to remove all flavouring ingredients.

---
TAKE CARE
Do not simmer the stock too long or it will be bitter.
TIPS
Stock is clear and light if bones are washed well. Do not season the stock as the flavours will intensify when it is reduced.
METHOD 2
1 kg (2 lb) fish trimmings
1 small onion, peeled and finely chopped
2 leeks, split, cleaned and chopped
1 bay leaf
Parsley stalks, sprigs of fennel and lemon rind
1.2 litres (2 pints) water
200 ml (1/3 pint) dry white wine
Salt and pepper
STEP 1: Place the fish trimmings in a large saucepan with the onion, leeks, bay leaf, parsley, fennel, lemon rind and water. Bring to the boil, slowly then skim any surface scum.
STEP 2: Add the white wine, and salt and pepper to taste and simmer very gently for 30 minutes, skimming the stock once or twice during cooking.
STEP 3: Strain the stock through clean muslin or a very fine sieve. Cool quickly and keep chilled until needed.
Makes about 1 Iitre (1 3/4) pints
METHOD 3 (Chinese Style Fish Stock)
Makes 7½ cups
MATERIALS NEEDED
1 head of a cod or salmon, etc, plus the trimmings, skin and bones or just the trimmings, skin and bones
1-2 onions, sliced
1 carrot, sliced
1-2 celery stalks, sliced
Good squeeze of lemon juice
1 bouquet garni or 2 fresh or dried bay leaves
INSTRUCTIONS
STEP 1: Wash the fish head and trimmings and place in a pan. Cover with water and bring to a boil.
STEP 2: Remove any scum with a perforated spoon, then add the remaining ingredients. Cover and simmer for about 30 minutes.
STEP 3: Strain and cool. Store in the refrigerator and use within 2 days.