How to Choose, How to Use and How to Store Fresh Fruits
Fruits are the best way to quench the sugary cravings and they are good sources for many vitamins and minerals. You can simply eat them as they are or use them in fruit salads, fruit cakes, smoothies, spreads and sauces or serve them as fruit juices or jams. Be it an exotic one such as a dragon fruit or passion fruit, or a common one such as a delicious apple or orange each and every one of them has their own place in the culinary world. In our article below you will find general information about fruits, hints and tips about how to store fresh fruits, some links to fruit cake recipes and fruit salad recipes and so on. You may also find the nutrients and calories in some of the most preferred fruits.
Fruit Know-How
Home-grown fruit beats all others. Depending on the location and climate, if you have your own trees you can enjoy the exceptional flavour of the fruit for at least a brief season in the year. Small farm shops embody this principle and often carry produce that is exceptional because it is locally picked and tree-ripened. They may also offer more varieties of fruit than can be found in larger stores and supermarkets.
Choosing Fruit
Modern technology has brought considerable changes to the production of fruit It is tempting to condemn this, given inferior flavour and the increasing use of chemical sprays. But these changes are counter-balanced by huge benefits: our favourite fruit can be eaten year-round instead of being a seasonal treat, and the most exotic fruit may appear in your local supermarkets. It is important to know how to choose fruit at the market The biggest and brightest fruit is not necessarily the best -in fact, probably far from it! Here are some tips on what to look for when buying specific types of fruit.
Apples: Firm and bright with an even background color; no bruises (but brown patches, or russeting, do not mean poor quality).
Pears: Firm, but yielding slightly at the stalk end, with the stalk still attached.
Peaches and nectarines: Firm but not hard, with a yellow or cream-colored background and a distinct seam along the side; no greenish tinge, bruises, or wrinkled or shrivelled skin (brown patches signal decay).
Apricots: Should give when pressed; soft velvety skin with no greenish tinge.

Plums:

 Uniform in color with smooth skin and slightly soft flesh.

Cherries:

 Plump, shiny, and well-colored with green, not dark or dry, stalks.

Lemons and limes:

 Smooth skin that is not shrivelled.

Oranges:

 Firm with no blemishes.

Grapefruit:

 Resilient, with no soft patches. (All citrus fruit should feel heavy with juice.)
Green, red, and black grapes: Unblemished and of uniform color, firmly attached to the stalk; good aroma. Red and black grapes should not have a greenish tinge.

Strawberries:

 Uniform color and moist green hull; perfumed aroma.
Raspberries, blackberries, boysenberries, and other soft berries: Plump with brilliant-to-deep color; no mould or rot.
https://eatopic.com/recipe/summer-fruit-salad-recipe/
Blueberries and other firm berries: Plump and shiny, with deep color. (Always buy berries in small containers because those in large containers may be crushed by their own weight.)
Dessert melons, such as honeydew, cantaloupe, Charentais, and Gallia: Heavy for their size and firm, with no soft spots, cracks, or mould; a heady aroma with no rotting overtones.
Watermelons: Deep green, matte skin; shake small ones because loose seeds indicate ripeness.
Bananas: Fairly soft skin when ripe, possibly with brown spots; no black patches.
Pineapples: Large and heavy with sweet aroma and central leaves that can be pulled out from the plume.
Mangoes: A sweet smell and taut skin with no soft spots.
Papayas: Small, with deep color.
Kiwi fruit: Should yield slightly, with no soft spots.
Passion fruit: Dry shrivelled skin and heavy for its size.
Pomegranates: Large and heavy in your hand, with clean skin.
Persimmons: Bright orange when ripe, with soft yielding pulp.
Star fruit or carambola: Firm, with juicy flesh.
Lychees: Unbroken bumpy skin, pink to brownish in color.
Purple and green figs: Dry with a sweet odor and no blemishes.
Fruits and Your Health
With health concerns on the rise, many cooks turn to fruit desserts for their high vitamin content and low calories. Several of the recipes in Fruit Desserts are naturally healthy, containing little or no butter, eggs, double cream, or sugar. Summer Fruit Salad and Mango Sorbet are two delicious examples. And with the simple modifications suggested here, other, richer fruit desserts can be made healthier and less fattening so that you can enjoy a balance between taste and nutrition. The sugar in every recipe can be reduced according to taste, and polyunsaturated margarine can be substituted for butter (although pastry recipes will suffer in taste and texture). You can omit Chantilly cream accompaniments and decorations: Pear and Redcurrant Compote, Baked Peaches with Amaretti, and Cherry Strudel lighten up considerably when you leave out the whipped cream on the side. Make fruit tartlets and tarts without the pastry cream, and serve soufflé puddings without the custard sauce – and you're on your way to making desserts that are healthier but just as pleasurable. If you have a specific health problem, consult your doctor and follow his recommended diet.
Cleaning Fruits
Fruit that is eaten with its skin may be washed gently in cold or warm water but should never be left to soak or it will become soggy. Water also encourages rotting in soft fruit, so avoid washing delicate fruit inch as berries unless they are very sandy. Some fruit, such as apples and citrus fruit, may be preserved with an edible wax; this can usually be removed by scrubbing the fruit under running water. Most modern pesticides used on fruit cannot be eliminated by washing; however, peeling fruit will reduce contamination.
Preventing Discoloration
When exposed to air, certain tannins and enzymes in fruit such as apples, peaches, and pears react, turning the cut fruit brown. Acid helps prevent this: rub the cut surfaces of the fruit with a halved lemon or lime, or immerse the fruit in water mixed with a little lemon or lime juice (this is called "acidulation"). Always peel or cut these fruit with a stainless steel knife because other metals may encourage discoloration. Fruit that discolours should be prepared as quickly as possible, just before it is needed.
Storing Fruits
The type of fruit, and how ripe it is when you buy it, determines how long it can be kept Some fruit, such as apples, pears, and oranges, ripen relatively slowly. Others -grapes and berries, for example – become ripe or overripe within a few days of maturity and cannot be stored for long. Fully ripened fruit should be refrigerated immediately. Discard any overripe or mouldy pieces – berries are particularly susceptible to mould. Handle fruit gently because bruising or crushing encourages rot. If a piece of fruit needs to ripen further at home, keep it at room temperature. It will ripen more quickly if wrapped, so store the fruit in a brown paper bag punctured with holes. If the fruit is extremely hard, the process can be accelerated by adding a very ripe piece of fruit to the bag. Some fruit, such as apples, nectarines, berries, and pears, will rot if left with their skins touching. If ripening them for more than a day, spread them out or wrap them individually in paper.
Why Fruit?
There is nothing better than fresh, sun-ripened fruit – except, of course, a luscious dessert made from them. The vibrant colours of limes, cherries, peaches, and plums, among others, are lovely to look at – and even better to eat! Whether in a simple salad, or a festive flambé, whether served hot or chilled, fruit is the basis for an unlimited range of dinner finales.
Recipe Choice
Everyone has a favourite fruit dessert, whether it's a tangy lemon soufflé or an exotic Pavlova, the French tarte Tatin, or blackberry fool – an English summer treat. Here you'll find cold desserts ranging from unusual fruit salads to grand soufflés, as well as hot desserts such as fritters and flambéed pineapple, with a selection of pies, tarts, and pastries to tempt even the faintest appetite.
Cold Desserts
Strawberry Shortcakes: crumbly shortcakes are filled with luscious strawberries and Chantilly cream, with a pool of fresh strawberry coulis all around.

Lemon Shortcakes with Blueberries:

a hint of lemon flavours the shortcakes, which are filled with plump blueberries and cream.

Pavlova with Tropical Fruit:

kiwi, pineapple, and mango give a tropical lilt to this giant meringue puff.

Pavlova with Mixed Berries:

this classic duo of meringue and fresh berries was created for the famed ballerina.

Summer Fruit Salad:

a decorative watermelon basket holds peaches, nectarines, cherries, melon, and assorted berries.
Exotic Fruit Salad: chunks of pineapple, papaya, star fruit, kiwi, mango, and lychees are spiked with white wine and rum and jewelled with pomegranate seeds.

Apricot Mousse:

the delicately perfumed mousse of golden apricots is decorated with rosettes of Chantilly cream – superlative!

Strawberry Mousse with Fresh Plum Sauce:

purple plum sauce makes a striking complement for strawberry mousse.

Cold Lemon Soufflé:

fluffy lemon soufflé is topped with strips of candied lemon zest – a fitting end to a grand dinner.
https://eatopic.com/recipe/raspberry-bavarian-cake-recipe-dessert-recipes/
Individual Cold Lime Soufflés:

the tang of lime lightens these chilled miniature soufflés.
Pear and Redcurrant Compote: blackcurrant liqueur and redcurrants add punch to poached pears.
Nectarine Compote: cardamom and pistachios give poached nectarines a Middle Eastern touch.
Dried Fruit Compote: this winter fruit dessert has orange zest and rum flavoring.
Poires Belle Hélène: poached pears and homemade vanilla ice cream are coated with rich chocolate sauce.
Poached Pear Fans with Chocolate Sauce: stylish presentation of pears in a pool of cream and chocolate sauce.
Mango Sorbet: refreshing ice has the rich flavour of ripe mango.
Melon Sorbet: aromatic cantaloupe or honeydew melon sums up the taste of summer.
Lemon Sorbet: served in the hollowed-out lemon shells, zesty sorbet delights children and adults alike.
Orange Caramel Creams: agreeably tart version of caramel custard is garnished with fresh orange.
Lime Caramel Creams: the tangy flavour of lime blends deliciously with a light caramel sauce.

Raspberry Bavarian Cake:

rich and elegant cake has fresh raspberry Bavarian cream sandwiched between layers of sponge cake.
Orange Bavarian Cake: orange and Grand Marnier enliven the creamy Bavarian filling in this dessert, to be enjoyed year-round.
Blackberry Fool: Puréed fresh blackberries, smooth pastry cream, and whipped cream make a combination to enchant us all.
Rhubarb Fool: refreshingly tart rhubarb with a sweet cream base has a finishing touch of stem ginger.

Redcurrant Fool:

A great way to use a tricky fruit.
Hot Desserts
Baked Peaches with Amaretti: a northern Italian classic fills sweet peaches with crushed almond-flavored biscuits.
Baked Figs with Amaretti: ripe figs are stuffed to serve with orange-flavored Chantilly cream.
Raspberry Soufflé Puddings with Kirsch Custard Sauce: an individual version of the French classic, this is made with fresh berries.
Strawberry Soufflé Pudding with Mint Custard Sauce: Puréed strawberries are folded into meringue and baked – simple yet divine!
Fruit Fritters in Beer Batter with Fresh Orange Sauce: light batter coats slices of pineapple, apple, and banana.
Fruit Fritters in Champagne Batter with Raspberry Coulis: fritters sparkle with an effervescent Champagne batter coating.
Caribbean Flambéed Pineapple: tropical treat has rings of pineapple, sautéed with brown sugar, pecans, and rum, topped with toasted coconut.
Flambéed Bananas Foster: this New Orleans classic combines bananas, plump raisins, cinnamon, and dark rum finished with sugar-glazed almonds.
Cherries Jubilee: black cherries are flambéed with kirsch and served with vanilla ice cream.
Gratin of Fresh Berries with Sabayon: fresh mixed berries are topped with fluffy sabayon sauce and briefly grilled.
Berries and Ice Cream with Sabayon: the unbeatable combination of berries and ice cream heats up when topped with sabayon sauce and quickly glazed.
Gratin of Citrus Fruit and Grapes with Sabayon: segments of orange and grapefruit with firm grapes make a pretty winter gratin.
Pies, Tarts, and Pastries
Peach Pie: baked peaches make a juicy filling, topped with a pastry lattice.
Cherry Pie: the most famous of all American pies, made with fresh cherries, needs no introduction.
Normandy Pear Tart: a pretty flower-shaped design of pear slices adorns this regional French tart, filled with almond cream.
Normandy Peach Tart: fresh peaches take the place of pears, with a jam glaze.

Phyllo Apricot Turnovers:

triangles of phyllo enclose little bites of apricot spiced with cinnamon, nutmeg, and cloves.
Phyllo Apricot Purses: aromatic apricot filling is wrapped in squares of phyllo, shaped like purses.
Phyllo Berry Turnovers: lightly sweetened berries fill crisp pastry turnovers.
Caramelized Upside-Down Apple Tart: firm apples are cooked in caramel and served on a pastry crust, with homemade crème fraîche.

Caramelized Upside-Down Pear Tart:

juice from pear halves combines with caramel to make a delicious topping.

Fresh Fruit Tartlets:

colorful fresh fruit are displayed in individual pastry shells lined with pastry cream.

Fresh Fruit Tart:

a full-size tart is filled with fresh fruit, arranged in concentric circles, glistening with jam glaze.

Cherry Strudel:

layers of flaky pastry surround fresh cherries, walnuts, brown sugar, and cinnamon in this Austrian favorite.
Dried Fruit Strudel: rum-soaked dried fruit and walnuts are the filling for strudel dough, served with a Chantilly cream accompaniment.

Hazelnut Torte with Strawberries:

A three-layer castle of golden brown hazelnut pastry has strawberry and fluffy Chantilly cream filling, plus a raspberry coulis.
Almond Torte with Peaches: peach slices and whipped cream are layered with almond pastry – a knockout!
Tools to Use When You Are Preparing Fruits
Given the wide range of fruit available, and the different methods of preparing them, a variety of equipment is needed. Happily, only a few items are specialized, and in almost all cases just standard kitchen tools are required. A chef's knife is always the best to use for slicing or cutting up fruit, particularly when it is large. Small knives come in handy for berries and small-to-medium-sized fruit The acid in most fruit will discolor a carbon steel blade, so always use a stainless steel serrated knife or a regular blade with a high stainless content All knives should be sharpened regularly and stored carefully to prevent dulling. The type of peeler you prefer, whether with a fixed or swivel blade, is up to you. The few special tools for cleaning and shaping fruit that you will need include a melon bailer and a cherry stoner. It is also useful to have a grapefruit knife with a curved serrated blade for hollowing many small fruit. https://eatopic.com/recipe/strawberry-shortcakes-recipe-cake-recipes/ Fie and cake tins are needed for the pies, tarts, and tortes here. It is not advisable to change the size of the tin called for in a recipe because the pastry quantity given will be wrong or the cake mixture will not bake correctly. A springform tin is required for the Bavarian cake, and ramekins are needed for individual soufflés and fruit-flavored caramel creams. Another useful piece of equipment for fruit desserts is a whisk, preferably a balloon whisk that will incorporate maximum air into whipped cream, egg whites, or sabayon sauce. For whisking egg whites, a copper bowl and balloon whisk are the classic French utensils. An electric mixer can almost always be substituted. For piping decorations, a piping bag with a selection of different nozzles is necessary, and you will need an icecream maker for sorbets and any desserts with ice cream as accompaniment. At the other end of the spectrum, a deep-fat fryer is required to cook the fritters.
What Goes Best With Fruits?
Many ingredients complement fruit A sprinkling of sugar brings out the best flavor, while a squeeze of lemon juice adds a pleasant tartness, with the added benefit of preventing fruit such as peaches and pears from discoloring. Further intensity of flavor can be added by a wide assortment of alcoholic spirits and liqueurs, such as rum, crème de cassis, and amaretto: they add that certain "something" when poaching, soaking, and flambéing. Whipped and Chantilly cream pair happily with almost all fruit, adding richness and a contrast of colour. An alternative is pastry cream, made with milk, egg yolks, sugar, and a thickening of flour, used as a background in fruit tarts and to lighten fruit purées. Chocolate combines luxuriously with a broad range of fruit, while gelatin is indispensable for shaping many moulded desserts. As for herb sprigs and spices, they turn up in surprising places, flavoring poaching liquids and sorbets, and adding fragrance to purées. Herbs also provide a touch of fresh green decoration.
Techniques
The wide variety of fruit calls for specific techniques to deal with each one. Stone fruit is often peeled and stoned, especially in presentations calling for fruit halves and slices. The fruit is briefly scalded to loosen the skin before it is halved to remove the stone. Other fruit, such as pears and apples, need only to be peeled with a vegetable peeler before being cut into halves and/or slices.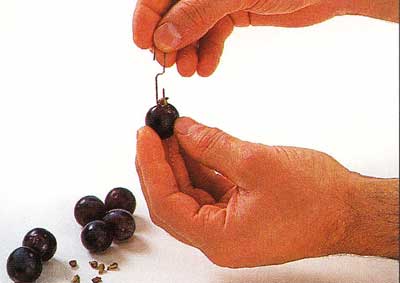 Citrus fruit are prepared differently. The juice is often squeezed out or the fruit is peeled with a knife and then cut into segments. Zest from citrus fruit may be grated to use as a flavoring or cut into strips and candied for decoration. Tropical fruit, such as pineapple and mango, require individual treatment. Pineapple is peeled with a large knife to remove the skin and "eyes", while mango flesh is sliced off the stone, then scored into cubes before being cut from the skin. Both raw and cooked fruit may be puréed to act as the foundation of a recipe or as the accompanying sauce. The techniques for cooking fruit – poaching, baking, and so on -are clearly explained here, as is the important point of judging just when fruit is done; tender but not mushy.
Nutrients and Calories in Some Fruits
Dragon fruit:
 Calories: 268 kcal, Protein: 3.57 g, Fat: 0.4 grams, Carbs: 11 g. Fiber: 3 g.
Passion fruit: 
Calories 97 kcal, Carbohydrate: 5.8 g, Protein: 2.6 g, Fat: 0.4 g, Fiber: 3.3 g
Apple: Calories 49.05 kcal, 
Carbohydrate: 11.83 g, 
Protein: 0.35 g, 
Fat: 0.1 g, 
Fiber: 1.97 g
Banana

:
 Calories: 95.0 kcal, Carbohydrate 20.9 g, Protein 1.2 g, Fat 0.3 g, Fiber 4.2 g
Avocado: 
Calories 190.0 kcal, Carbohydrate 1.9 g, Protein 1.9 g, Fat 19.5 g, Fiber 3.4 g
Kiwi: 
Calories: 49.0 kcal, Carbohydrate: 10.6 g, Protein 1.1 g, Fat: 0.5 g, Fiber 1.9 g
Orange: 
Calories: 37.4 kcal, Carbohydrate: 8.5 g, Protein: 1.1 g, Fat: 0.06 g, Fiber: 1.7 g
Pear: 
Calories: 37.5 kcal, Carbohydrate: 9.13 g, Protein: 0.28 g, Fat: 0.1 g, Fiber: 1.38 g
Apricot:

 
Calories: 51.6 kcal, 
Carbohydrate 11.96 g, 
Protein 1.5 g, 
Fat 0.42 g, 
Fiber 2.15 g
Mango: 
Calories: 57 kcal, Carbohydrate: 14.1 g, Protein 0.7 g, Fat 0.2 g, Fiber 2.6 g
Grapefruit: 
Calories: 30 kcal, Carbohydrate: 6.8 g, Protein: 0.8 g, Fat 0.1 g, Fiber: 1.3 g
Pineapple: 
Calories: 42.4 kcal, Carbohydrate: 10 g, Protein: 0.4 g, Fat: 0.2 g, Fiber: 1 g
Pomegranate: 
Calories: 68 kcal, Carbohydrate: 17.2 g, Protein: 1 g, Fat: 0.3 g, Fiber: 0.6 g
Papaya: 
Calories: 26.1 kcal, Carbohydrate: 6.6 g, Protein: 0.4 g, Fat: 0.1 g, Fiber: 1.2 g
Melon: 
Calories: 34 kcal, Carbohydrate: 8.2 g, Protein: 0.8 g, Fat 0.2 g, Fiber: 0.9 g
Plum: 
Calories: 34.5 kcal, Carbohydrate: 8.1 g, Protein: 0.5 g, Fat: 0.1 g, Fiber: 1.8 g
Star fruit: 
Calories: 
31 kcal, 

Protein: 

1 g, 

Fat: 

0.3 g, 

Carbohydrate: 

7 g
Pomelo: 
Calories: 38 kcal, Carbohydrate: 9.6 g, Protein: 0.8 g, Fat: 0 g, Fiber: 1 g
Watermelon: 
Calories: 30 kcal, Carbohydrate: 7 g, Protein: 0.4 g, Fat: 0.3 g, Fiber: 0.4 g
Blackberry: 
Calories 25.25 kcal, Carbohydrate 5.1 g, Protein 0.9 g, Fat 0.2 g, Fiber 3.1 g
Black Grape: 
Calories: 61.5 kcal, Carbohydrate 15.2 g, Protein 0.4 g, Fat 0.1 g, Fiber 0.6 g
Cherry
(Weighed With Stone): Calories 39 kcal, Carbohydrate 9.5 g, Protein 0.7 g, Fat 0.1 g, Fiber 0.7 g
Strawberry:  Calories: 28 kcal, Carbohydrate: 5.99 g, Protein: 0.8 g, Fat: 0.1 g, Fiber: 1.36 g
Guava: 
Calories: 68 kcal, Carbohydrate: 14 g, Protein: 3 g, Fat: 1 g, Fiber: 5 g