Gruyère is probably the most important French cheese for cooking. Made in the rugged Alpine dairy country of the Savoie, it is firm and has a rich nutty flavour.
SERVES: 6-8
PREP TIME: 20 min
COOK TIME: 1 h
READY TIME: 1 h 20 min
CUISINE: French
⇓ You may also listen to the recipe by pressing the play button below.
INGREDIENTS
12 oz (340 g) shortcrust pastry
1 tbsp (15 ml) Dijon mustard
6 oz (175 g)6 rindless streaky bacon rashers, chopped
1 onion, chopped
3 eggs
1½ cups (350 ml/12 fl oz) single cream
5 oz (150 g) Gruyère cheese, diced
Salt and freshly ground black pepper
Fresh parsley, to garnish
INSTRUCTIONS
1 Preheat the oven to 200°C/400°F/Gas 6. Roll out the pastry thinly and use to line a 23 cm/9 in flan tin. Prick the base of the pastry case and line with foil. Fill with baking beans and bake for 15 minutes. Remove the foil and beans, brush the case with mustard and bake for a further 5 minutes, then transfer to a wire rack. Reduce the oven to 180°C/350°F/Gas 4.
2 In a frying pan, cook the bacon over a medium heat, until crisp and browned, stirring occasionally.
3 Remove the bacon with a slotted spoon and drain on kitchen paper. Pour off most of the fat from the pan, add the onion and cook over a medium-low heat for about 15 minutes until very soft and golden, stirring occasionally.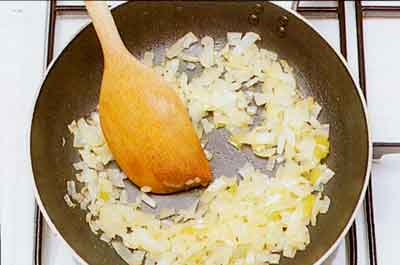 4 Beat together the eggs and cream and season with salt and pepper.
5 Sprinkle half the cheese over the pastry, spread the onion over the cheese and add the bacon, then top with the remaining cheese.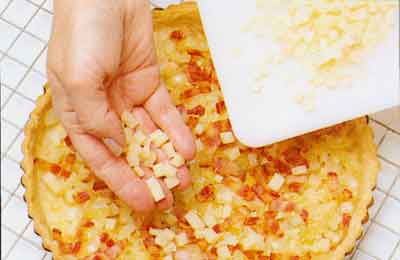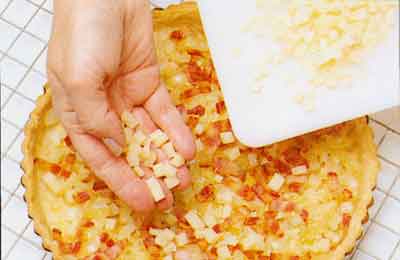 6 Pout on the egg mixture and bake for 35—45 minutes until set. Transfer to a wire rack to cool slightly. Serve warm, garnished with parsley.