A vegetable gratin is a classic supper dish in French homes. It also makes a great accompaniment to plain roast meat or chicken. If you wish, prepare it in individual gratin dishes.
• Servings: 4-6
• Preparation Time: 10 min
• Cook Time: 50 min
• Ready Time: 1 h
• Cuisine: French
You may also listen to the recipe by pressing the play button below:
INGREDIENTS
450 g/1 lb cauliflower, broken into florets
45 g/1½ oz/3 tbsp butter
45 g/1½ oz/4 tbsp plain flour
350 ml/12 fl oz/1½ cups milk
1 bay leaf
Pinch of freshly grated nutmeg
15 ml/1 tbsp Dijon mustard
175 g/6 oz/1½ cups grated Gruyère or Emmenthal cheese
Salt and freshly ground black pepper
INSTRUCTIONS
1 Preheat the oven to 180 °C/ 350°F/Gas 4. Lightly butter a large gratin dish or shallow baking dish.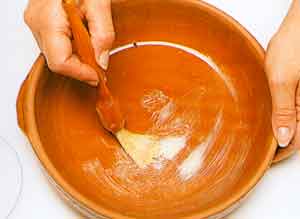 2 Bring a large saucepan of salted water to the boil, add the cauliflower florets and cook for 6—8 minutes until just tender. Alternatively, bring water to the boil in the base of a covered steamer and steam the cauliflower over boiling water for 12-15 minutes until just tender.
3 Melt the butter in a heavy saucepan over a medium heat, add the flour and cook until just golden, stirring occasionally. Pour in half the milk, stirring vigorously until smooth, then stir in the remaining milk and add the bay leaf. Season with salt, pepper and nutmeg. Reduce the heat to medium-low, cover and simmer gently for about 5 minutes, stirring occasionally, then remove the pan from the heat. Discard the bay leaf, add half the cheese and stir until melted.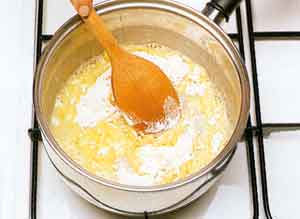 4 Arrange the cauliflower in the dish. Pour over the cheese sauce and sprinkle with the remaining cheese. Bake for about 20 minutes until bubbly and well browned.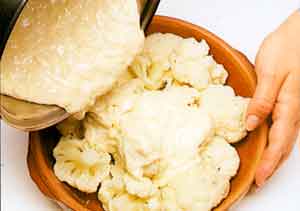 VARIATION
If you wish, add diced ham or cooked bacon to the cauliflower before covering with the cheese sauce, or use broccoli florets in place of cauliflower.