Many chefs add potato to celeriac purée, but this recipe highlights the pure flavour of the vegetable. If you have any leftovers, thin with stock or milk to make a lovely soup!
SERVES: 4
PREP TIME: 10 min
COOK TIME: 15 min
READY TIME: 25 min
You may also listen to the recipe by pressing the play button below:
INGREDIENTS
1 large celeriac (about 750 g/1¾ lb), peeled
15 g/½ oz/1 tbsp butter
Pinch of freshly grated nutmeg
Salt and freshly ground black pepper
INSTRUCTIONS
1 Cut the celeriac into large cubes, put in a saucepan with enough cold water to cover and add a little salt. Bring to the boil over a medium- high heat and cook gently for 10-15 minutes until tender.
2 Drain the celeriac, reserving a little of the cooking liquid, and place in a food processor fitted with the metal blade. Process until smooth, adding a little of the cooking liquid if it needs thinning.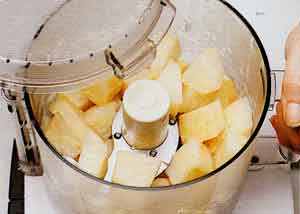 3 Stir in the butter and season to taste with salt, pepper and nutmeg. Reheat, if necessary, before serving.