Aioli is a Spanish garlic mayonnaise, similar to the French mayonnaise of the same name. In this recipe saffron adds color and flavor.
SERVES: 4
PREP TIME: 35 min
COOK TIME: 10 min
READY TIME: 45 min
CALORIES: 990 (per serving)
CUISINE: Spanish
⇓ You may also listen to the recipe by pressing the play button below.
INGREDIENTS
1 large egg yolk
½ tsp (2.5 ml) Dijon mustard
1¼ cups (½ pint/300 ml) extra virgin olive oil
1-2 tbsp (15-30 ml) lemon juice
1 garlic clove, crushed
½ tsp (2.5 ml) saffron strands
20 baby new potatoes
Vegetable oil for frying
Salt and ground black pepper
INSTRUCTIONS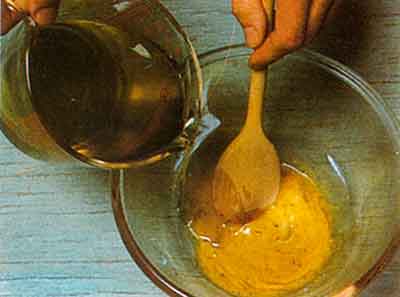 1 To make the aioli, put the egg yolk in a bowl with the mustard and a pinch of salt. Beat together with a wooden spoon.
---
2 While beating, add the olive oil very slowly, drop by drop to begin with, then, as the aioli gradually thickens, in a thin stream.
3 Add the lemon juice and salt and pepper to taste, then beat in the crushed garlic.

4 Place the saffron in a small bowl, and add 2 tsp (10 ml) hot water.

5 Press the saffron with the back of a teaspoon, to extract the color and flavor, and leave to infuse for 5 minutes.

6 Beat the saffron and the liquid into the mayonnaise.

7 Cook the potatoes in boiling salted water for 5 minutes, then turn off the heat. Cover the pan and leave for 15 minutes. Drain the potatoes, then dry them thoroughly.

8 Heat ½ inch (1 cm) oil in a deep pan. When the oil is very hot, add the potatoes, and fry quickly, turning, until crisp and golden. Drain on kitchen paper, and serve with the saffron aioli.