Traditionally this sort of pork pate (or more correctly, terrine, since it has no crust) contains pork liver and egg to bind. This version uses leeks instead for a fresher flavour and a lighter result.
SERVES: 8-10
PREP TIME: 20 min
COOK TIME: 40 min
READY TIME: 1 hour
CALORIES: 253 (per serving)
⇓ You may also listen to the recipe by pressing the play button below.
INGREDIENTS
450 g/1 lb trimmed leeks (white and light green parts)
15 g/1/2 oz/1 tbsp butter
2 or 3 large garlic cloves, finely chopped
l kg/21/4 lb lean pork leg or shoulder
150 g/5 oz smoked rindless streaky bacon rashers
7.5 ml/11/2 tsp chopped fresh thyme
3 sage leaves, finely chopped
1.5 ml/1/4 tsp quatre epices (a mix of ground cloves, cinnamon, nutmeg and pepper)
1.5 ml/1/4 tsp ground cumin
Pinch of freshly grated nutmeg
2.5 ml/1/2 tsp salt
5 ml/1 tsp freshly ground black pepper
1 bay leaf
INSTRUCTIONS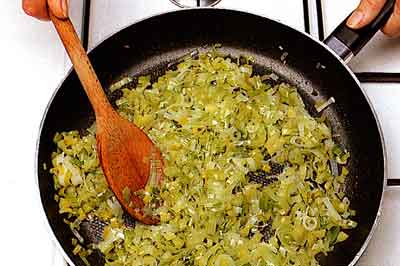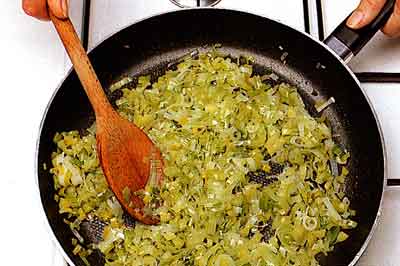 1 Cut the leeks lengthways, wash well and slice thinly. Melt the butter in a large heavy saucepan, add the leeks, then cover and cook over a medium-low heat for 10 minutes, stirring occasionally. Add the garlic and continue cooking for about 10 minutes until the leeks are very soft, then set aside to cool.
---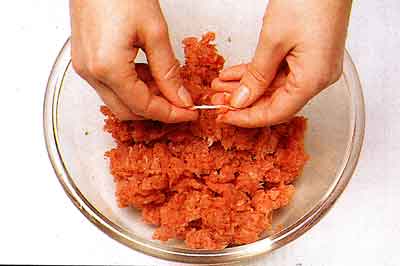 2 Trim all the fat, tendons and connective tissue from the pork and cut the meat into 3.5 cm/13/4 in cubes. Working in two or three batches, put the meat into a food processor fitted with the metal blade; the bowl should be about half-full. Pulse to chop the meat to a coarse puree. Alternatively, pass the meat through the coarse blade of a meat mincer. Transfer the meat to a large mixing bowl and remove any white stringy bits.
---
3 Reserve two of the bacon rashers for garnishing, and chop or grind the remainder. Add the bacon to the pork in the bowl.

---
4 Preheat the oven to 180°C/350°F/ Gas 4. Line the base and sides of a a 1.5 litre/21/2 pint/61/4 cup terrine or loaf tin with greaseproof paper or non-stick baking paper.

---
5Add the leeks, herbs, spices and salt and pepper to the bowl with the pork and bacon and, using a wooden spoon or your fingertips, mix until well combined.
---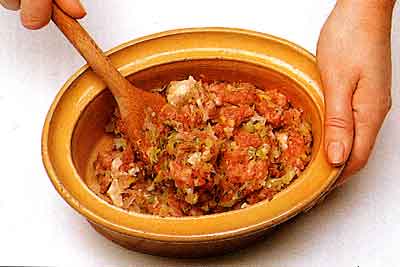 6 Spoon the mixture into the terrine or loaf tin, pressing it into the corners and compacting it. Tap firmly to settle the mixture and smooth the top. Arrange the bay leaf and bacon rashers on top, then cover tightly with foil.
---
7 Place the terrine or loaf tin in a roasting tin and pour boiling water to come halfway up the sides. Bake for 11/4 hours.
---
8 Lift the terrine or tin out of the roasting tin and pour out the water. Put the terrine back in the roasting tin and place a baking sheet or board on top. If the pate has not risen above the sides of the terrine, place a foil-covered board directly on the pate. Weight with two or three large cans or other heavy objects while it cools. (Liquid will seep out which is why the terrine should stand inside a roasting tin.) Chill until cold, preferably overnight, before slicing.
NUTRITION FACTS
Calories: 253 Kcal
Fat: 21 g
Cholesterol: 114 mg
Sodium: 1138 mg
Potassium: 208 mg
Carbs: 1 g
Protein: 13 g
COOK'S TIP
In France, conichons (small dill pickles) and mustard are traditional accompaniments for pork terrines along with slices of crusty baguette.