Spanish chorizo sausage has a deliciously pungent taste, its robust seasoning of garlic, chili and paprika flavors the ingredients it is cooked with. Frying chorizo with onions and olive oil is one of its simplest and most delicious uses.
SERVES: 4
PREP TIME: 5 min
COOK TIME: 10 min
READY TIME: 15 min
CALORIES: 453 per serving
⇓ You may also listen to the recipe by pressing the play button below.
INGREDIENTS
5 tbsp (75 ml) extra virgin olive oil
12 oz (350 g) chorizo sausage, sliced
1 large onion, thinly sliced
Roughly chopped flat leaf parsley to garnish
INSTRUCTIONS
1 Heat the oil in a frying pan and fry the chorizo sausage over a high heat until beginning to color. Remove from pan with slotted spoon.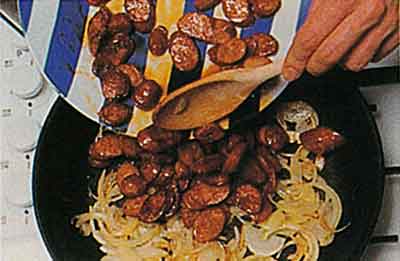 2 Add the onion to the pan and fry until colored. Return the sausage slices to the pan and heat through for 1 minute.
---
3 Tip the mixture into a shallow serving dish and scatter with the parsley. Serve with warm bread.

VARIATION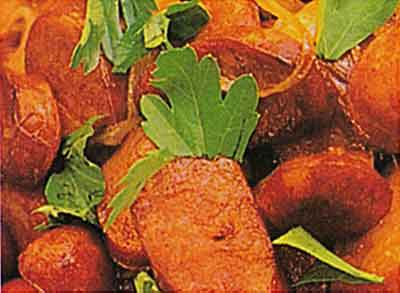 Chorizo is usually available in large supermarkets or delicatessens. Other similarly rich, spicy sausages can be used as a substitute.