A strong flavoured washed rind cheese such as Epoisses, Maroilles, or Livarot, is traditional in this tart but Munster or Port Salut will also produce a pleasant, if milder, result.
SERVES: 4
PREP TIME: 1 h 30 min
COOK TIME: 1 h
READY TIME: 2 h 30 min
CUISINE: French
⇓ You may also listen to the recipe by pressing the play button below.
INGREDIENTS
1/2 oz (15 g /1 tbsp) butter
1 onion, halved and sliced
2 eggs
8 fl oz (250 ml/1 cup) single cream
8 oz (225 g) strong-flavoured semi-soft cheese, rind removed (about 175g/ 6 oz without rind), sliced
Salt and freshly ground black pepper
Lettuce and parsley leaves, to serve
For the yeast dough
2 tsp (10 ml) active dry yeast
4 fl oz (125 ml/1/2 cup) milk
1 tsp (5 ml)sugar
1 egg yolk
8 oz (225 g/1 3/4 cups) plain flour, plus more for kneading
1/2 tsp (2.5 ml) salt
4 tbsp (55 g/2 oz) butter, softened
INSTRUCTIONS
1 First make the yeast dough. Place the yeast in a small bowl. Warm the milk in a saucepan until it is at body temperature and stir into the yeast with the sugar, stirring until the yeast has dissolved. Leave the yeast mixture to stand for 3 minutes, then beat in the egg yolk.
2 Put the flour and salt in a food processor fitted with the metal blade and pulse twice to combine. With the machine running, slowly pour in the yeast mixture. Scrape down the sides and continue processing for 2—3 minutes. Add the butter and process for another 30 seconds.
3 Transfer the dough to a lightly oiled bowl. Cover with a cloth and allow to rise in a warm place for about 1 hour until doubled in bulk, then punch down.
4 On a lightly floured surface, roll the dough into a 30 cm/ 12 in round. Use to line a 23 cm/9 in flan tin or dish. Trim any overhanging dough so that it is about 3 mm/1/2 in outside the rim of the tin or dish. Set aside and leave the dough to rise again for about 1/2 hour, or until puffy.
---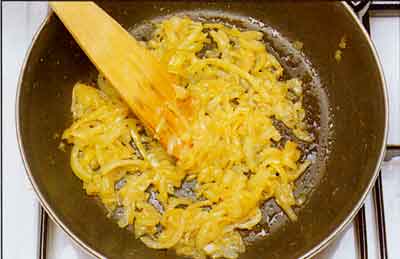 5 Meanwhile, melt the butter in a heavy saucepan and fry the onion, covered, over a medium-low heat for about 15 minutes, until softened, stirring occasionally. Uncover the pan and continue cooking, stirring frequently, until the onion is very soft and caramelized.
---
6 Preheat the oven to 180°C/350°F/ Gas 4. Beat together the eggs and cream. Season with salt and pepper and stir in the cooked onion.
---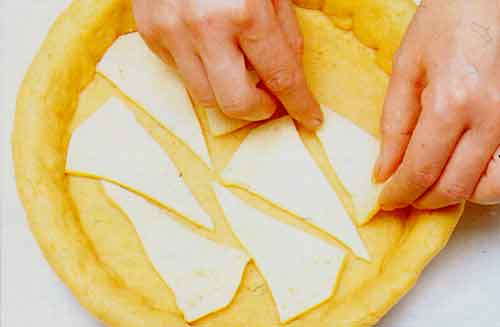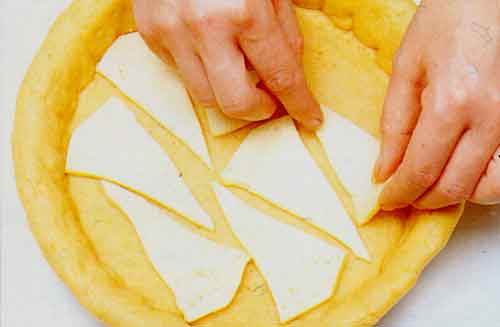 7 Arrange the cheese on the base of the dough. Pour over the egg mixture and bake for 30—35 minutes until the bread base is golden and the center just set. Cool on a wire rack before serving hot or warm with lettuce and parsley leaves.
---