In France, veal kidneys are easily found, but this dish is equally delicious made with lamb's kidneys. Be sure not to cook the sauce too long once the mustard is added or it will lose its piquancy.
SERVES: 4
PREP TIME: 30 min
COOK TIME: 30 min
READY TIME: 1 hour
CALORIES: 100 (per serving)
⇓ You may also listen to the recipe by pressing the play button below.
INGREDIENTS
2 veal kidneys or 8-10 lamb's kidneys, trimmed and membranes removed
30 g/1 oz/2 tbsp butter
15 ml/1 tbsp vegetable oil
120 g/4 oz button mushrooms, quartered
60 ml/4 tbsp chicken stock
30 ml/2 tbsp brandy (optional)
175 ml/6 fl oz/3/4 cup creme fraiche or double cream
30 ml/2 tbsp Dijon mustard
Salt and freshly ground black pepper
Snipped fresh chives, to garnish
INSTRUCTIONS
1 Cut the veal kidneys into pieces, discarding any fat. If using lamb's kidneys, remove the central core by cutting a V-shape from the middle of each kidney. Cut each kidney into three or four pieces.
---
2 In a large frying pan, melt the butter with the oil over a high heat and swirl to blend. Add the kidneys and saute for about 3-4 minutes, stirring frequently, until well browned, then transfer them to a plate using a slotted spoon.
---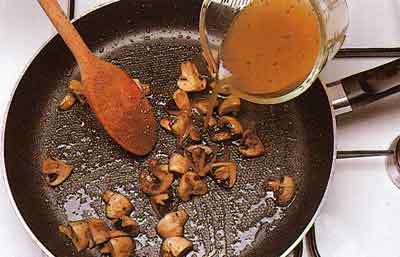 3 Add the mushrooms to the pan and saute for 2-3 minutes until golden, stirring frequently. Pour in the chicken stock and brandy, if using, then bring to the boil and boil for 2 minutes.
---
4 Stir in the creme fraiche or double cream and cook for about 2-3 minutes until the sauce is slightly thickened. Stir in the mustard and season with salt and pepper, then add the kidneys and cook for 1 minute to reheat. Scatter over the chives before serving.
---
NUTRITION FACTS
Calories: 100.6 Kcal
Fat: 4.6 g
Cholesterol: 105.9 mg
Sodium: 101.2 mg
Potassium: 150.6 mg
Carbs: 1.3 g
Protein: 4.9 g