In France the word pilaf refers to the cooking method of sauteing a food in fat before adding liquid. This method produces perfect rice every time.
SERVES: 6-8
PREP TIME: 5 min
COOK TIME: 25 min
READY TIME: 30 min
CUISINE: French
You may also listen to the recipe by pressing the play button below:
INGREDIENTS
40 g/11/2 oz/3 tbsp butter or 45—60 ml/ 3-4 tbsp oil
1 medium onion, finely chopped
450 g/1 lb/2 cups long grain rice
750 ml/11/4 pints/3 cups chicken stock or water
2.5 ml/1/2 tsp dried thyme
1 small bay leaf
Salt and freshly ground black pepper
15—30 ml/1—2 tbsp chopped fresh parsley, dill or chives, to garnish
INSTRUCTIONS
1 In a large heavy saucepan, melt the butter or heat the oil over a medium heat. Add the onion and cook for 2—3 minutes until just softened, stirring all the time.
2 Add the rice and cook for 1—2 minutes until the rice becomes translucent but does not begin to brown, stirring frequently.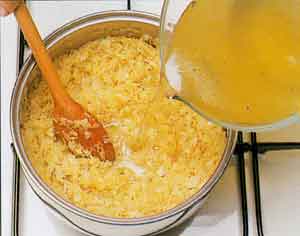 3 Add the stock or water, dried thyme and bay leaf and season with salt and pepper. Bring to the boil over a high heat, stirring frequently. Just as the rice begins to boil, cover the surface with a round of foil or greaseproof paper and cover the saucepan.

4 Reduce the heat to very low and cook for 20 minutes (do not lift the cover or stir). Serve hot, garnished with fresh herbs.

COOK'S TIP
Once cooked, the rice will remain hot for a half an hour, tightly covered. Or, spoon into a microwave-safe bowl, cover and microwave on High (full power) for about 5 minutes until hot.