In many cultures rice symbolizes fertility and life – consequently we have the age-old tradition of throwing rice at weddings. In some circles, spilling or upsetting a bowl of rice is considered to be very bad luck, so be careful when tipping the contents of those rice bags into airtight containers for storage. For the fact file, rice is the most highly consumed food in the world!
There are many varieties of this world-wide staple food. In Italy, which produces more and a greater variety of rice than anywhere else in Europe, there are at least four short-grained types used for risotto, and in Spain, Valencia rice is the preferred variety for paella. In the Middle East rice is served with every meal, either plainly boiled or cooked with saffron and other spices to create fragrant pilaffs.
Varieties or Types of Rice
Short and Medium Grain Rice: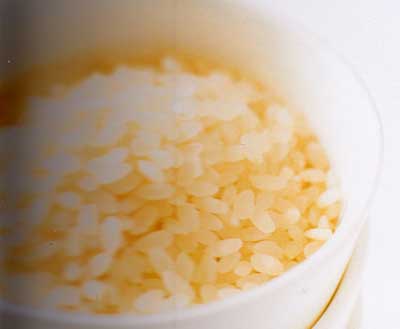 Short- and medium-grain rice have traditionally been used by the English for puddings, although the Japanese use them for everyday sushi, the Spanish for paella and the Chinese eat medium- grain rice at almost every meal. The plump, moist grains stick together when cooked properly, making them easy to eat with chopsticks.
---
Brown Rice:
Brown rice comes in long- and short-grain varieties. The outer husk or bran of brown rice is not polished away as it is for white rice. Therefore, brown rice is nutritionally superior to white rice and has a slightly nutty taste. Brown rice takes approximately 40 minutes to cook as the water has to penetrate the bran.
Calories: 111 Kcal
---
Long Grain Rice:
Long-grain rice separates into individual grains when cooked. Long grained rice is the variety usually used for making simple rice dishes. Jasmine and basmati rice are both long- grain varieties. Basmati is the finest and most expensive long-grain rice.
Calories: 175 Kcal
---
Arborio Rice:
Arborio (or Italian) rice takes its name from a village in the Piedmont region of northern Italy. This round, short-grain rice is used for risotto. It releases some of its starch when cooked, making a creamy savoury rice dish. Other varieties used for risotto include violone and carnaroli.
Calories: 130 Kcal
---
Wild Rice:
Wild rice is not really a rice but the grain from a water grass native to North America. It has a distinctive nutty flavor with a chewy texture and comes with a fairly hefty price tag. You can mix it with other varieties of rice.
Calories: 101 Kcal
---
Glutinous Rice:
Glutinous rice comes in plump, opaque grains, which can be either white or black, or short or long. These grains become sticky and sweet when cooked. It is necessary to soak glutinous rice overnight if you are steaming it. It can be used unsoaked if you are cooking it by the absorption method. Predominantly used in sweets, glutinous rice is also the staple rice of some Asian countries. It is a medium-grain rice used for making puddings and savory dishes.
Calories: 97 Kcal