This dish has been made for centuries in Provence and it gets its name from the shallow casserole, tian, in which it is traditionally cooked. In the days before home kitchens had ovens, the assembled dish was carried to the bakerys to make use of the heat remaining after the bread was baked.
• Servings: 4
• Preparation Time: 10 min
• Cook Time: 45 min
• Ready Time: 55 min
• Cuisine: French
INGREDIENTS
15 ml/1 tbsp olive oil, plus more for drizzling
1 large onion (about 225 g/8 oz), sliced
1 garlic clove, finely chopped
450 g/1 lb tomatoes
450 g/1 lb courgettes
5 ml/1 tsp dried herbes de Provence
30 ml/2 tbsp grated Parmesan cheese
Salt and freshly ground black pepper
INSTRUCTIONS
1 Preheat the oven to 180°C/350°F/ Gas 4. Heat the oil in a heavy saucepan over a low heat and cook the onion and garlic for about 20 minutes until soft and golden. Spread over the base of a 30 cm/12 in shallow baking dish.
2 Cut the tomatoes crossways into 6 mm/1/4 in thick slices. (If the tomatoes are very large, cut the slices in half.)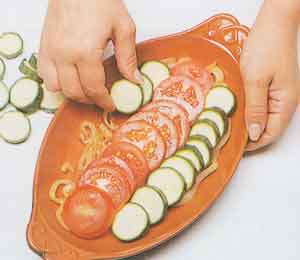 3 Cut the courgettes diagonally into slices about l cm/1/2 in thick.
4 Arrange alternating rows of courgettes and tomatoes over the onion mixture and sprinkle with herbs, cheese and salt and pepper. Drizzle with olive oil, then bake for 25 minutes until the vegetables are tender. Serve hot or warm.